Lietzen, Germany — As the Red Army advanced on Berlin in 1945, Adolf Hitler threw everyone from teenagers to elderly men into Nazi Germany's last stand. Even now soldiers are still being unearthed, and the search is likely to go on for a long time yet.
The difference is that with the Cold War over and Germany reunited, these men are getting a proper burial, and their families are finding closure.
A group that cares for German war graves tends the remains of hundreds of World War II soldiers found every year in the heights and pine forests east and south of Berlin.
"The earth was drowned in blood here," Gisela Kowalke, who works for the mostly donation-funded Union for the Care of German War Graves, said at a recent burial ceremony for 86 soldiers killed during the fighting in early 1945.
"We estimate there are still 30,000 soldiers we haven't found. We'll never find them all."
The latest remains, most discovered during dike construction near the Oder river that now separates Germany and Poland, were put in black boxes and buried in a small cemetery alongside nearly 1,000 comrades.
All were killed in the area when Soviet generals sent waves of men against the Wehrmacht. After a massive pounding, the strategic Seelow Heights fell to the Soviets in April, opening the way to Berlin.
After the Nazi surrender in May 1945, German civilians began returning to their homes, but the remains of countless dead soldiers were simply thrown into holes and covered with dirt.
Lietzen's grave markers starkly illustrate Hitler's last-ditch attempts to save the Third Reich: The soldiers ranged in age from over 60 to just 15.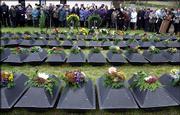 Hedwig Schnurre, 84, heard two weeks before the latest funeral that her husband, Jakob Schuth, had been found and was being buried at Lietzen. He was a 30-year-old sergeant when he died.
"It was an absolute shock," said Schnurre, who remarried after the war. "It stirred up all of my memories of him and of our life together."
Ingeborg Borchardt, 72, came to pay her last respects to her father, August Brand, who had been pressed into Wehrmacht service out of a civilian job and was killed at age 37.
"It's a pure miracle," said Borchardt, fighting back tears. "I'm happy he finally has a resting place."
The burial ceremonies would have been impossible when Brandenburg was part of communist East Germany, whose ideology denied any continuity with prewar Germany.
"Before 1990, all these soldiers were just fascists," said Gisela Kowalke's husband, Erwin. "It was a political matter. But death and burial don't have to do with politics."
Copyright 2018 The Associated Press. All rights reserved. This material may not be published, broadcast, rewritten or redistributed. We strive to uphold our values for every story published.