Crowd packs arts center for bizarre crafts show
Holly Miller knew there was one thing missing from her bag of purchases Saturday as she took a break from wandering among the tables at the Lawrence Arts Center's Bizarre Bazaar.
"Chicken feet made into Christmas tree ornaments," Miller said, as she sat with a friend outside the arts center, 940 N.H. "That was just way too cool and funny as all get out," Miller said.
Miller, of Kansas City, Mo., has been coming to the Bizarre Bazaar for the past few years because she knows some of the local artists who sell their work at the annual arts and crafts event.
This was the 14th year for the daylong art sale, which featured more than 100 artists. A shoulder-to-shoulder crowd packed the arts center most of the day.
Not all of the artwork was as odd as chicken feet ornaments. Mary Jane Nuss, of Lawrence, was selling table-top fountains.
"I think this is a great venue with a lot of neat people and great things," Nuss said of the arts and crafts show.
Area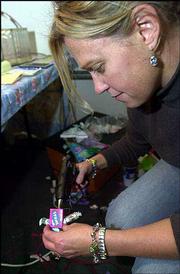 Perry-Lecompton district OKs upgrades at schools
The Perry-Lecompton school district will invest $1.5 million to improve lighting as well as heating and cooling systems in district facilities.
Supt. Steve Johnston said the enhancements would be financed with bonds acquired through Oppenheimer & Co., Topeka.
New lighting systems and control mechanisms for heating and cooling units will be installed in six district schools, the bus barn and administration offices.
Heating and cooling units will be replaced at Perry-Lecompton High School and Perry Middle School. Deficiencies of current systems -- especially the high school -- make it difficult to maintain consistent temperatures in the buildings.
The school board voted 5-0 last week to approve $1.14 million in upgrades and acceptance of $367,000 in interest payments on the bonds. Facility improvements in the Jefferson County district are expected to be completed within a year.
Copyright 2018 The Lawrence Journal-World. All rights reserved. This material may not be published, broadcast, rewritten or redistributed. We strive to uphold our values for every story published.