Los Angeles — Michael Jackson has donated to so many charities that the Guinness Book of World Records in 2000 listed him as the world-record holder for "most charities supported by a pop star."
Now, as the singer faces new allegations of child molestation, charities, schools and even cities that benefited or hoped to benefit from his largess are reconsidering their affiliation with the "King of Pop."
Others say they will distance themselves only if Jackson is convicted of a crime.
Despite concerns by sponsors and other groups, the allegations shouldn't hurt Jackson's popularity if he escapes prosecution or is acquitted once charges are brought, said Mary Hall Ross, president and founder of The Ross Group in Santa Monica, which specializes in celebrity endorsements.
That is particularly true with companies that market clothing and music, she said.
"I think it's a small hiccup in the long, evolving life of Michael Jackson," she said. "Michael's an icon and will always be an icon."
Still, at a Hollywood elementary school that Jackson attended for three months in 1969, shortly after the Jackson Five's first single, "I Want You Back," soared to the top of the charts, workers recently put up plywood to cover the first two words on the "Michael Jackson Auditorium."
Gardner Street Elementary School made the decision after parents raised concerns at a meeting last week, said Olga Quinones, spokeswoman for the Los Angeles school district. She said parents were concerned the auditorium's name would bring the school "unwarranted attention."
Jackson donated money for the auditorium and attended its dedication in 1989.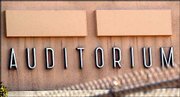 A high school marching band from Bloomington, Ind., decided to drop Jackson's hit "Thriller" from its Macy's Thanksgiving Day Parade play list. Band director Thomas Wilson told The New York Times "Thriller" would not be appropriate for the "morals and ideals" the parade represents.
Other groups have been more forgiving.
In Gary, Ind., where Jackson lived until age 11, city officials are considering putting Jackson's name on a new performing arts center.
The center remains in the planning stages, but Mayor Scott L. King met with Jackson last June, said LaLosa Burns, spokeswoman for the mayor.
"Until there's some proof in the pudding, we will continue to remain neutral," she said.
Copyright 2017 The Associated Press. All rights reserved. This material may not be published, broadcast, rewritten or redistributed. We strive to uphold our values for every story published.