For most of three quarters of the Class 5A title game there was little reason to believe Blue Valley had any business hanging with Salina South, let alone beating it.
The Cougars did whatever they pleased for 29 minutes. Then, like it has all season, Blue Valley awoke from its slumber and found a way to win.
The Tigers scored 16 unanswered points Saturday, including the go-ahead score on a one-yard plunge by quarterback Geno Waters, and won the state championship with a 22-21 victory over Salina South at Memorial Stadium.
"For a lot of the game they had their way with us," Blue Valley coach Steve Rampy said, "but we just didn't quit. Our guys just kept battling and hanging in there and making plays down the stretch.
"When we got it back with four minutes left, I really believed we were going to win. I thought we'd find some way to get it in the end zone. That's the kind of team it has been all year."
Blue Valley shook aside plenty of sketchy first-half performances, but none created a deficit quite like the 21-6 hole it was in with 7:02 left in the third quarter.
The Tigers scored first when Waters found Brian Oliver on a slant pattern for a seven-yard score midway through the second quarter. The failed two-point conversion caused things to spiral out of control.
A turnover on downs, fumble and interception led to three Salina South scores. Jeff Adam put the Cougars on top, 7-6, with a 37-yard run. He recovered Quinn Cunningham's fumble in the end zone 2:03 later, giving South a 14-6 lead at halftime. Jason Dolan's 69-yard run pushed the lead to 21-6 five minutes into the third quarter.
The Cougars bumbled the lead away almost as quickly as they'd built it, however. Seven fumbles -- five in the second half -- either stalled or halted drives. Blue Valley capitalized on everything.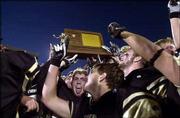 "You can't make the mistakes that we made and expect to win a championship football game. You just can't," South coach Ken Stonebraker said. "We made 'em, and we have to live with that."
Chase Holtom slipped outside on a draw and busted it 45 yards for a touchdown. The two-point conversion failed, but the Tigers had momentum. South punted on its ensuing possession, and Blue Valley marched 60 yards to the seven. Waters nailed a 24-yard field goal to trim South's lead to 21-15.
Cunningham broke an 83-yard touchdown run with seven minutes left that should have sealed the win for South, but it was called back for clipping. The Cougars punted instead. Michael Denning's 59-yard run set up Waters' game-winning dive.
"That probably would've stabbed us in the heart if they'd scored on that," Holtom said, "but you've got to play fair to reward yourselves, so we'll take it. This one feels great."
Copyright 2018 The Lawrence Journal-World. All rights reserved. This material may not be published, broadcast, rewritten or redistributed. We strive to uphold our values for every story published.