Milwaukee — The Christmas of 2003 is likely to go down in the record books as a nonevent, hot item-wise.
No frantic searches for Tickle Me Elmo. No Furby riots.
But while retail watchers are wringing their hands at the lack of a hot seller, shoppers likely will be applauding because the experts also are predicting great deals for consumers this year. The lack of a few sought-after gifts this season is going to generate major price competition in both toys and electronics this season, analysts say.
"There are so many choices for kids," said Malachy Kavanagh, spokesman for the International Council of Shopping Centers.
Toysellers started cutting prices in the weeks before Thanksgiving, Kavanagh said, with Wal-Mart, Target and Toys "R" Us fighting for a share of consumers' holiday budgets.
Analysts for Ernst & Young list the lack of "must-have" products this year as one of the negatives for retailers in what is expected to be a good selling season. Various economists have predicted a gain in retail sales this season of 5 percent to 6 percent.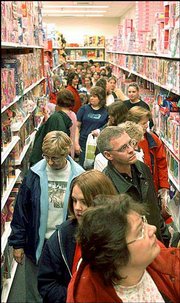 But two new surveys conducted last week, from the Conference Board and the Consumer Federation of America, said holiday gift spending may not match last year's levels.
The lack of any hot items means consumers will pay more attention to retailer ads; they'll also give more Christmas ornaments as gifts, predicts Britt Beemer, head of America's Research Group in Charleston, S.C.
The reason for the lack of newness this year is fear of failure, Beemer said.
"Companies are afraid of shareholders," he said. "I think people who manufacture products are stupid."
The National Retail Federation polled 6,500 families to ask what they'll be buying for children. Perennial favorite Barbie heads its list for girls, followed by Bratz, Leap Frog and Dora the Explorer. For boys, cars and trucks are on top, with Game Boy-related items, video games and Hot Wheels toys following in order.
Copyright 2018 The Lawrence Journal-World. All rights reserved. This material may not be published, broadcast, rewritten or redistributed. We strive to uphold our values for every story published.