Imagine a kind of faith that transcends denominations, creeds and hierarchies.
A form of spirituality that you can come to from any religious background.
A philosophy that venerates all of the traditions that humans have looked to, over thousands of years, for illumination and a sense of connection to the divine.
What you'd have, essentially, is Sufism.
Tracing its roots back about 1,000 years to India and ancient Persia, Sufism is an esoteric or mystical path that reveres the religions of the world and their prophets: Jesus, Moses, Buddha, Mohammed, Krishna, Zarathustra and other influential teachers.
Sufis, who live around the globe -- and in Lawrence, too -- believe there are many ways people may take in order to find God, and that the world's religions share a common insight and spiritual wisdom. For those who follow the Sufi path, Sufism greatly influences the way they come to understand life, the nature of humanity and God.
Charles Gruber, a longtime Lawrence real estate broker, discovered Sufism in 1971 and was ordained as a Sufi minister in 1976.
Gruber, 58, helped orchestrate the activities of the Lawrence Sufi Center from 1972 to 1982. Members of the Sufi community gathered for Sufi peace dancing and to have what are known as "Universal Worship Services" in a renovated garage behind Gruber's east Lawrence home.
"Sufism is the mother of my understanding of the mystical aspects of life. It's the distilled essence of the teachings from all spiritual traditions that describes, in a particular way, our relationship to the world and to the divine," Gruber said.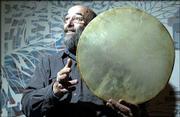 Gruber, who grew up in a secular Jewish home in Westport, Conn., first became aware of Sufism when he listened to an album of Sufi music in 1971.
"This was something different," he said, recalling the powerful experience.
"The music stirred up some kind of memory in me that I had never experienced. It was sublime. I rose above myself, and it felt like I had been listening to this music for a long time."
Resonance with the divine
Probably the best-known Sufi is Jalaluddin Rumi, the Sufi poet of love who was born in 1207 in the region that is now Afghanistan.
Rumi's mystical poetry remains popular even today, but, according to Gruber, it was an Indian man named Hazrat Inayat Khan who brought an awareness of Sufism to the West in 1910.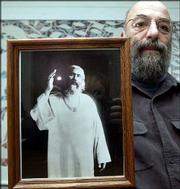 Khan, traveling first to Great Britain and then to the United States, taught a form of Sufism that bridged the perceived gap between the spirituality of the East and the West.
Khan founded the Sufi Order of the West, now called the Sufi Order International. He died in 1926.
Within Sufism, there are four different orders: Chishtiya, Naqshbandi, Suhrawardi and Qadiri. Gruber belongs to the Chishtiya Order, which began in India in the 1300s.
Its teachings have a direct line of transmission through Hazrat Inayat Khan; his son, Pir Vilayat Khan, who now lives in France; and Pir Zia Khan, Hazrat's grandson, now head of the Sufi Order International.
Anyone can follow the Sufi path, according to Gruber. Sufis can be from any religious background and still maintain that identity.
"The whole idea is that it doesn't take you from your faith -- it deepens you in your faith. Some faiths want to claim you for themselves to the exclusion of all others. That's not the Sufi path, which is to open your heart to all of the faiths," he said.
"It's all about resonance with the divine, which can be achieved in a zillion ways: poetry, music, dance, chanting, isolation, service, study, ritual."
Sufis can strengthen their connection to God individually, or form a community, as they did in Lawrence in the '70s and '80s.
Gruber stepped aside from leadership of the Lawrence Sufi Center in the mid-1980s to focus on raising his children, and participation at the center eventually dissipated.
Also, Sufi dancing used to be held weekly in the early '80s at Ecumenical Christian Ministries, 1204 Oread Drive.
Despite the ending of those activities, Gruber said, there are likely dozens of Lawrence residents who still continue to follow the Sufi path of faith.
Essence of love
Another Sufi who lives in town is C. Shaffia Laue, a Menninger-trained psychiatrist with a private practice in Lawrence for almost 20 years.
She was initiated into the Sufi Order International in 1979, through a process of requesting the guidance of a spiritual teacher and devoting herself to Sufi teachings.
"When I found Sufism, it was like, 'Oh yes, this is the way I think it's supposed to be,' so I think I've actually been on the path most of my life," she said.
Sufis, Laue explained, believe in the unity of spiritual ideals -- that there have been many messengers or prophets from God, that their teachings are essentially the same (such as "Do unto others as you would have them do unto you") and that the world's religions have much in common.
Laue belongs to a Sufi Healing Order, which is part of the larger Sufi Order International. She is especially interested in the Sufi belief that humans have the ability to heal themselves and others.
Her guide, and the head of the Sufi Healing Order, based in Asheville, N.C., is a man named Himayat Inayat. He has come to Lawrence twice a year to teach Sufis here, and he recently led a healing retreat in Eureka Springs, Ark., that several Lawrence residents attended.
Laue said she knew of at least a dozen people in town who pursue Sufi studies and practice on their own.
Laue's first name -- Shaffia -- is a Sufi name that means "a mediator," especially in the sense of healing. She has used this name for about 25 years.
Laue, who was raised a Christian, said that Sufism has helped to deepen her faith and change the way she thinks about divinity.
"To me, the image of God being an old man in a robe with a beard on a cloud somewhere is so inadequate to describe the divine being, which is totally the essence and the manifestation of love," Laue said.
"If we go to the Bible, it says, 'God is love.' That's a better representation of God."
Copyright 2018 The Lawrence Journal-World. All rights reserved. This material may not be published, broadcast, rewritten or redistributed. We strive to uphold our values for every story published.