Customers visiting area Christmas tree farms Friday, the opening day of the season, probably had no idea the difficulties tree growers endured bringing the firs to harvest.
"It was a tough crop," said Kathy Heeb, owner of Prairie Elf Christmas Trees, a seven-acre farm near Lone Star. "This was the fourth year of drought in a row and it made our job difficult."
Heeb said she lost about 400 of the 1,000 trees she planted this year. Even worse, she was worried that the crop of trees slated to be sold this year --which were planted about six years ago -- also was looking like it might not make it.
"We had some real concern about the mature trees, but then we got that six-inch rain near Labor Day and that saved us," Heeb said.
Heeb said buyers might notice area trees have a bit more yellow than normal but there shouldn't be a shortage of trees. Heeb said she had about 800 trees to sell at her farm, about 600 more than she normally sells.
Business strong
Residents seem to be in the buying mood for trees Friday.
At Strawberry Hill Christmas Tree Farm, 794 U.S. Highway 40, owner Lyn Walther said business was more brisk than she expected.
"I think people are finally starting to get tired of the artificial tree," Walther said. "We've had some college kids who have come out here and said they never had a real tree before, and they're excited about getting one."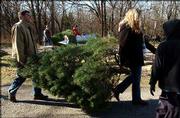 Walther said she expected her business to sell between 700 and 1,000 trees this year.
Growers said Friday's cold weather helped get people in the holiday spirit of buying.
Steve Patton, a Lawrence resident who took his two daughters and two nieces to Prairie Elf, said getting out in nature was part of the reason he went to the tree farm.
"It's fun to be out in the elements and then get some hot cider and cookies to warm up," Patton said. "It just personalizes the whole experience, especially for the kids."
Both Prairie Elf and Strawberry Hill are following a trend in the industry to offer more than just a tree. Besides allowing customers to pick and cut down their own trees, they offer wagon rides, refreshments and arts-and-crafts opportunities for the children.
"Coming out here is just part of our tradition anymore," Patton said. "This just seems a lot more traditional than going to a parking lot and buying a tree."
But operators of several tree lots in Lawrence, which sell trees that already have been cut, also reported brisk business.
Bill Pyle, of the Lawrence Luncheon Optimists Club, said he expected to sell from 700 to 800 trees this year in the parking lot of Checkers Foods, 23rd and Louisiana streets.
"We just keep selling out year after year," Pyle said.
He said about 80 percent of the stand's business was from repeat customers. Pyle said he thought that was because many people like buying from a stand that donates its profits to charity. The Optimists give all proceeds -- about $10,000 a year -- to youth programs in the city.
But some nonprofit stand operators said they were keeping an eye on new competition.
Rodney Sharp, an operator of the Kansas Sports Foundation lot at Ed Marling Stores, 27th and Iowa streets, said more traditional retailers had become involved in selling Christmas trees.
"With Home Depot in town now, that's the big one we're watching," Sharp said. "Places like that use them as lead-ins. They'll price them lower to help get people in the store."
Prices do vary among businesses. Home Depot had 6-foot trees for about $20 while Prairie Elf sold its trees, regardless of size, for $30. Strawberry Hill charged $5.50 per foot. At nonprofit lots, prices ranged from less than $20 for a 4-foot tree to nearly $100 for a specialty, 9-foot tree.
Area numbers
The number of Christmas tree farms remains steady in both the state and the Lawrence area, said Catherine Howard, a rural Lawrence resident, who serves as editor of Christmas Trees Magazine.
She said there were about 85 Christmas tree farms in the state, and about 35 of them are within about an hour's drive from Lawrence.
U.S. consumers buy about 30 million Christmas trees a year, which adds about $1 billion to the agriculture economy. But Howard said artificial trees continued to be more popular with consumers than real trees, although she said numbers weren't available on artificial trees.
"We're trying to change that though," Howard said. "We tell people to buy a real tree because it often supports the local economy. You're helping teenagers who often work at these places, and you're helping support people who care about farming."
Copyright 2018 The Lawrence Journal-World. All rights reserved. This material may not be published, broadcast, rewritten or redistributed. We strive to uphold our values for every story published.