Tbilisi, Georgia — She sells wood-burning stoves, having left her low-paying job as a medical technician three years ago to join one of Georgia's few growth industries. Still, Izolda Tabadtadze hopes to go out of business soon.
Georgians won't need stoves anymore if they have gas or electricity, Tabadtadze, 54, said in front of her bazaar stall, stacked with a pyramid of stoves. "I hope next year I won't be selling these stoves."
In homes across Tbilisi and the rest of Georgia, the flames of revolution were stoked by people simply trying to keep warm after the collapse of the nation's infrastructure when the Soviet Union dissolved.
Frustration with the steep decline in living standards in Georgia -- once one of the Soviet bloc's most prosperous republics -- erupted into the mass protests that forced President Eduard Shevardnadze to resign Sunday in a bloodless "rose revolution."
For many people, their plight is symbolized by the tiny, rectangular metal stoves that during the past decade have become a necessity.
Central heating, free in Soviet times, was switched off in 1991, the year of the Soviet breakup, as the country's coffers ran dry. Electricity is now available all the time for Tbilisi's 1.5 million residents, but just a couple of months ago, it was for only 2 to 4 hours a day.
Interim President Nino Burdzhanadze discussed the energy situation Thursday with officials, emphasizing the country needs a working system -- especially given the approaching winter, when temperatures in Tbilisi drop as low as 14 degrees.
Turkmenistan shut off natural gas supplies to Georgia in 1994, after Georgia ran up a $600 million debt it is still trying to repay with airplane repairs and free exports of green tea, cigarettes and the country's famous wine. Russia's Itera utility agreed to deliver gas to Georgia in 1995, but supplies are still frequently shut off over nonpayment.
Burdzhanadze said the transition government was asking Russia to give Georgia a debt holiday so it could receive uninterrupted supplies. It also seeks help in the energy sphere from Europe and the United States.
In a sign of hope, Georgia is to receive free gas as payment for allowing the transit of a pipeline from Azerbaijan to Turkey, scheduled for completion in 2005.
Until those plans are realized, Georgians will rely on their stoves.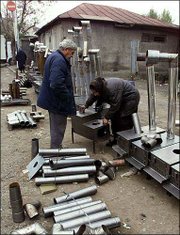 Copyright 2017 The Associated Press. All rights reserved. This material may not be published, broadcast, rewritten or redistributed. We strive to uphold our values for every story published.