EAST RUTHERFORD, N.J. — The disappointment was clear in Alonzo Mourning's voice when he broke the news to Jason Kidd: He was calling it quits because his life-threatening kidney disease had worsened.
Mourning wasn't worried about himself, though. His biggest concern was letting the team down, four months after joining the New Jersey Nets.
"The big person that he is, he was very soft-spoken," Kidd said Monday, recalling his telephone conversation with Mourning the night before. "He felt that he was maybe letting me down in the sense that he came here to try and win a championship and he came here because of me."
Mourning, 33, will need a transplant soon, and the team said a nationwide search was under way for a prospective donor.
A player who epitomized work ethic, Mourning lasted just 12 games in his return to the NBA after sitting out last season and large portions of two others because of the ailment, focal glomerulosclerosis.
"For him to come out and almost kill himself to just play the game that he loves, it just shows the kind of person 'Zo is," Kidd said.
Mourning was not at the team's practice Monday. It was not clear whether the Nets will have to pay the seven-time All-Star the remainder of the four-year, $22 million contract.
"I would get updates on his numbers every day and it scared me to death," coach Byron Scott said Monday of recent medical reports. "When I started cutting him minutes, it was because I was getting a little nervous. I kept hearing about how his numbers were going up. Again, it had nothing to do with his performance. To me it was more of a life and death situation."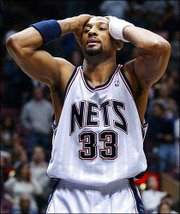 Copyright 2018 The Associated Press. All rights reserved. This material may not be published, broadcast, rewritten or redistributed. We strive to uphold our values for every story published.