Baltimore — There was nothing in Anthony Wright's past to suggest he would be the architect of the greatest comeback in the history of the Baltimore Ravens.
Matt Stover kicked a 42-yard field goal with 6:32 left in overtime Sunday, capping an amazing rally that carried the Ravens past the Seattle Seahawks, 44-41.
Making his seventh NFL start -- the second with the Ravens after being elevated from third string -- Wright helped Baltimore score 10 points in the final 72 seconds of regulation to force overtime.
He then directed a 55-yard drive in the extra period, connecting with Marcus Robinson for 19 yards on a third-and-15 play to set up Stover for the winner.
The frenzied finish seemed out of the question when Baltimore (6-5) fell behind 41-24 with 14:16 remaining, but Wright and the Ravens never gave up hope.
"It was looking very, very dim. But we just let it all hang out," said Wright, 2-5 as an NFL starter. "Everything came together. It's unbelievable, for us to be down as much as were and to come back."
It took the finest performance of Wright's career to enable Baltimore to snap a two-game skid. He went 20-for-37 for 319 yards and a personal-best four touchdowns -- all of them to Robinson.
After delivering the improbable victory, Wright headed to the hospital for a delivery of a different kind: His wife was anticipating giving birth to the couple's second child Sunday night.
The Ravens' previous biggest comeback was a 16-point turnaround against Jacksonville in 2000.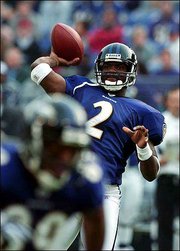 Matt Hasselbeck threw a career-high five touchdown passes for the Seahawks, going 23-for-41 for 333 yards. But he failed on a fourth-down quarterback sneak late in regulation, allowing the Ravens to get the ball one more time with the score 41-38.
"We just needed one more play," Hasselbeck said. "One more play and we could have won the game. We should have won the game, and we just didn't make it."
Darrell Jackson had seven receptions for 146 yards and two scores, and Bobby Engram also had two touchdown catches.
"We let them back in the football game," Seattle coach Mike Holmgren said. "It was just a bizarre, bizarre ending."
Patriots 23, Texans 20, OT


Houston -- Tom Brady's four-yard touchdown pass to Daniel Graham forced overtime, where Adam Vinatieri had his 37-yard field-goal attempt blocked. But Vinatieri kicked a 28-yard game-winner with 41 seconds left that extended New England's winning streak to seven games.
Rams 30, Cardinals 27, OT

Tempe, Ariz. -- Jeff Wilkins kicked a 49-yard field goal with 10:22 left in overtime to give the Rams (8-3) sole possession of first place in the NFC West. It was Wilkins' second winning kick in a row; his 31-yarder last week beat the Bears.
Cowboys 24, Panthers 20


Irving, Texas -- Quincy Carter threw two touchdown passes to revive Dallas' sputtering offense in a battle for the best record in the NFC. The Panthers were within six yards of tying the game with about five minutes left, then ended up settling for a 34-yard field goal in hopes of getting the ball back and working their late magic. Carolina has won six times in the final two minutes or overtime.
Colts 17, Bills 14
Orchard Park, N.Y. -- Edgerrin James carried Indianapolis' banged-up offense to a comeback victory. James scored twice, including the winner on a fourth-down plunge from inside the one with 1:38 remaining. James, who also scored on a 14-yard run, had 28 carries for 108 yards, his fourth 100-yard performance of the season, and third since he missed three games with a back injury.
Titans 38, Falcons 31
Atlanta -- Billy Volek took over for Steve McNair and threw his second career touchdown pass, rallying the Titans from a 21-point deficit. McNair, the leading passer in the NFL, left in the second quarter when he hurt his right calf. Volek finished 9-for-15 for 117 yards.
Vikings 24, Lions 14
Minneapolis -- Corey Chavous and Brian Williams each returned interceptions for touchdowns late, and the Vikings sent the Lions (3-8) to their 22nd straight road loss. The Lions tied the Buffalo Bills (1983-86) for the second-longest road skid in NFL history. The Houston Oilers (1981-84) own this dubious league record with 23 consecutive losses away from home.
Eagles 33, Saints 20
Philadelphia -- Donovan McNabb completed 16 of 25 passes for 259 yards and one touchdown, leading the Eagles (8-3) to their sixth straight victory. David Akers added four field goals. Deuce McAllister had 184 yards rushing, including TD runs of 76 and 22 yards, and Aaron Brooks threw for 287 yards for the Saints (5-6), who had won four of five.
Bears 19, Broncos 10
Denver -- Kordell Stewart scored on a one-yard run after replacing Chris Chandler, and Paul Edinger kicked four field goals. Chicago (4-7) had 217 total yards coming off consecutive two-point losses, but benefited from good field position and two pass interference penalties against Denver's Lenny Walls.
Bengals 34, Chargers 27
San Diego -- Jon Kitna matched his career high with four touchdown passes, three to Chad Johnson, and Corey Dillon ran for 108 yards on 18 carries to help the Bengals win for the fifth time in six games. It was Johnson who guaranteed Cincinnati's win over previously undefeated Kansas City a week earlier.
Steelers 13, Browns 6
Cleveland -- Pittsburgh capitalized on five Cleveland turnovers, Jerome Bettis ran for a season-high 93 yards, and the Steelers (4-7) did not look like a tired team. Steelers coach Bill Cowher complained about playing a road game six days after a Monday night loss in San Francisco.
Packers 20, 49ers 10
Green Bay, Wis. -- Ahman Green ran through San Francisco's stingy defense for 154 yards on 27 carries. Green set franchise records with his fourth straight 100-yard game and his eighth of the season.
Jets 13, Jaguars 10
East Rutherford, N.J. -- Chad Pennington threw a three-yard touchdown pass to Santana Moss with 26 seconds remaining, capping a 94-yard drive. Jacksonville (2-9) took a 10-6 lead with 4:24 remaining when Chris Fuamatu-Ma'afala scored on fourth-and-goal from inside the one. Pennington and the Jets (4-7) could not do much offensively all game, but put together a winning drive helped by a controversial pass interference call on Fernando Bryant.
Dolphins 24, Redskins 23


Miami -- Wearing orange jerseys for the first time, the Dolphins looked like the same hapless offensive team they've been most of the season. Then Jay Fiedler came to the rescue. Sidelined since Oct. 19 with a sprained left knee, Fiedler came off the bench late in the third quarter and helped Miami rally from a 13-point deficit to beat Washington. Fiedler led scoring drives of 71 and 69 yards, both ending with touchdowns by Ricky Williams, who ran for 107 yards.
Copyright 2018 The Associated Press. All rights reserved. This material may not be published, broadcast, rewritten or redistributed. We strive to uphold our values for every story published.