It is much easier to call home for the holidays than it was 100 years ago.
Telephones are improving each year. Today it is easy to buy a cell phone that can take pictures, keep track of your calendar, send messages and fit in your pocket. Antique phones were very different. Those made before 1900 were often large, wall-hung wooden boxes, sometimes called "coffin phones" because of their shape. There was no dial, and calls were made with the help of a live operator.
By 1910, phones were made of Bakelite and nickel-plated metal. The tall, tabletop phone with a receiver held at the side was known as an "upright desk stand," "candlestick phone" or "oil can." By the 1920s, some of these phones had dials. Next came the "cradle phone," about 1930. It had a stand and a separate speaker and mouthpiece joined to the stand by a cord. The 1960s saw phones of colored plastic with push-button dials and streamlined shapes. By the 1980s, there were all sorts of novelty phones shaped like comic characters, or objects like shoes or pianos. The telephone had become a decorative object.
Only a few phones before the 1950s were considered beautiful, even though designers in the early 1900s sometimes made gold and flowered porcelain phones or special decorative boxes to hide the phone. About 1910, the Roycroft Shops even made a hammered-copper version of the candlestick phone, to be used in an Arts and Crafts room.
I was surprised to learn that, at one time, toothpicks were not made to use and throw away. I was recently at an antiques show where some beautiful toothpicks were displayed. What can you tell me about the history of this invention?
Evidence has been found proving that prehistoric men and women used toothpicks to clean their teeth. By the 16th century, European nobles were using gold, silver or ivory toothpicks inlaid with jewels. Etiquette rules developed, and picking teeth at the table became a no-no. But collecting beautiful toothpicks became a hobby for some. Decorative toothpicks were replaced in the late 1800s by modern, mass-produced wooden toothpicks.
We acquired a Victorian oak slant-front desk from a close relative who collected antiques. A label inside a drawer reads "Rockford Chair & Furniture Co., Rockford, Ill." What can you tell us about the company?
Rockford Chair & Furniture Co. was founded in Rockford around the turn of the 20th century by Pehr A. Peterson (c. 1846-1927). He had founded the Union Furniture Co. in the same city in 1875-'76. The Rockford Chair & Furniture Co. was still in business in the late 1920s. The Victorian style of your secretary suggests that it dates from around 1900. But this company and many others manufactured reproductions of earlier styles for decades.
Can you tell me anything about the "Lion on Wheels" stuffed toy given to my father when he was a child? (He was born in 1903). The toy was a cast-off from a wealthy German family in St. Louis. The lion's fur is golden-brown mohair. He has button eyes and a thick, curly, blond mane. He stands on two axles with cast-iron wheels that have four spokes. The lion is 18 inches long and 13 inches tall. If you pull a string on his back, he growls.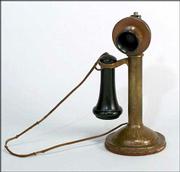 Your description of the animal, its age, the style of the cast-iron wheels and his type of voice box lead us to believe your lion might be an early Steiff toy. Have an antique-toy appraiser look at it. It could be very valuable.
A friend of mine told me that if I knew what my frying pan was worth, I'd find something else to fry my chicken in. The cast-iron pan is 10 inches in diameter and 21/2 inches deep. On the bottom there's a large double circle with a cross inside. Across the cross is the word "Griswold." Under the logo are the words "Erie, Pa."
Skillets and other cast-iron cookware made by the Griswold Manufacturing Co. of Erie, Pa., are collectible. Griswold made cookware from the late 1800s until the 1950s. Skillets were manufactured in various sizes and styles. There should be at least one additional mark -- a size number -- on the bottom of your skillet. Today, most 10-inch Griswold skillets sell for about $50.
My modern-looking wooden platter is branded "Prestini." Is he an important woodworker?
James Prestini made turned wooden objects starting in the late 1930s. In 1949 a book was published that pictured his wooden pieces. Some of the wooden bowls and platters are now being sold at auctions of 20th-century decorative arts. A platter can sell for more than $800.
Tip
Don't let anyone smoke near your antique dolls. The nicotine residue is harmful, and the odor of the smoke is objectionable.
Current prices are recorded from antiques shows, flea markets, sales and auctions throughout the United States. Prices vary in different locations because of local economic conditions.¢ Salt and pepper shakers, ceramic, frontier wagon, man and woman pioneers sitting on wagon, yellow, gold trim, Japan, 2 1/2 x 2 inches, $25.¢ Candy container, Independence Hall, clear glass, detailed and embossed, coin slot on roof, marked "Bank of Independence Hall, 1776-1876," 5 x 3 1/2 inches, $150.¢ Carnival-glass bowl, Wishbone pattern, amethyst, 3 x 9 inches, $210.¢ Staffordshire plate, blue-and-white transfer print of "The Landing of the Fathers at Plymouth, Dec. 22, 1620," medallions with ships border, 1819-1846, 10 1/8 inches, $310.¢ Sterling-silver flatware soup ladle, King George pattern, Gorham, 11 inches, $355.¢ Sioux Indian doll, buckskin body, beaded yoke, belt and moccasins, brown human hair in braids, painted face, 1900, 7 inches, $420.¢ Appliqued Friendship quilt, cornucopia fruit baskets, strawberries, grapes, flowers, 1849, 96 x 96 inches, $525.
Copyright 2018 The Lawrence Journal-World. All rights reserved. This material may not be published, broadcast, rewritten or redistributed. We strive to uphold our values for every story published.