Photographer: Richard Gwin
Camera: D1H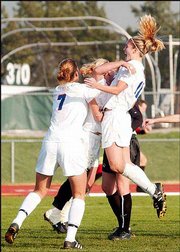 Lens: 230mm
ISO: 320
Shutter: 1/800
Aperture: 5.6
Sports pictures are sometimes the hardest to shoot because you're trying to catch both emotion and action at the same time.
This assignment sent me to Columbia, Mo., last Sunday to cover the Kansas University women's soccer team. The lighting was OK, but the late afternoon sun was coming across the field at a low angle, causing flair if one were to shoot looking into it. I decided to stand with the sun at my back, shooting with a quick shutter speed.
KU drove to its first goal, and I got some nice pictures, but everyone was looking toward the bench. There were no faces to convey reaction.
The team drove and scored again with nearly two minutes left. I shot a burst of frames looking at the person who scored the goal. Adding to the emotion of the shot were fellow team members celebrating with the player.
-- "Behind the Lens" is an ongoing weekly series that features an image selected by the Journal-World photo staff that previously ran in the newspaper or online. Wondering how a certain picture was created? Nominate it for "Behind the Lens" by contacting chief photographer Mike Yoder at 832-7141 or myoder@ljworld.com.
Copyright 2018 The Lawrence Journal-World. All rights reserved. This material may not be published, broadcast, rewritten or redistributed. We strive to uphold our values for every story published.