YATES CENTER — It's a simple concept: Local people come up with homegrown ideas for starting a business, word spreads, and soon everyone in the community pitches in.
During the 1800s, neighbors pitched in at barn raisings. Today, people build storefronts and small factories, hoping that local expertise will make entrepreneurial dreams a reality.
Such projects are seen as critical means for keeping the rural economy healthy and keeping Main Streets from being relegated to history.
"It's knowing that there are people in the community with a knowledge or passion for business but for whatever reason haven't done it," said Jack Newcomb, facilitator of the Quad County Enterprise program. "It's not economic development in the classic sense."
The program includes Chautauqua, Elk, Greenwood and Woodson counties.
Three communities received three-year state grants in January 2002 to establish enterprise facilitation programs. Besides Quad County, the others are the Western Kansas Consortium of Sherman, Greeley, Wichita, Scott, Lane and Kearny counties; and the Four County Sunflower Region of Harper, Barber, Kiowa and Pratt counties.
Later, in summer 2002, two more were added, Prairie Enterprise, for Barton, Edwards, Ellsworth, Rice and Russell counties, and Northeast Kansas, for Atchison, Brown, Doniphan, Jackson and Nemaha counties.
Each group has a 50-member board of directors made up of local business, education and elected officials.
Coaching and tough love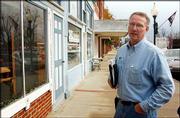 Newcomb also falls back on his own experience. After working until 1995 in the federal Resolution Trust Corp., he started his own telecommunications business from scratch. He sold it in 2002 to become facilitator for Quad County.
Since he took the job, Quad County has created 56 jobs and 17 businesses, with estimated sales of $945,000 and invested capital of $658,000. The businesses include a bed and breakfast in Sedan, a fabricated welding firm in Eureka and a gallery for an artist in Moline.
Another homegrown business in Yates Center is Washboard and More. The main focus is laundry services, but "the more" for owner Marla Newman is a collectibles store in the adjacent space in her building a block from town square.
Newman, 46, approached Newcomb about "her dream" as the laundry's previous owners closed shop.
Newman had long wanted to open the specialty store and had worked on it for a few years when the hardware and variety store closed across from the courthouse.
She immediately jumped into the washing business knowing that residents otherwise would have to drive to Iola, 20 miles east, to wash clothes or drop off dry cleaning.
Newman said Newcomb was the right person to temper her enthusiasm and prevent her from making mistakes.
"If he doesn't agree with you, he'll tell you it's not right," she said. "I have room to expand, but I want to go slow because of the economy right now.
Newcomb said that telling entrepreneurs to think through their ideas was part coaching, part tough love.
Economic foundation
Rep. Kenny Wilk is a believer in the entrepreneurial spirit. As chairman of the House Economic Development Committee, the Lansing Republican is working on legislation to encourage communities to develop their own businesses.
Wilk said the enterprise facilitation program was worth continuing.
He said the barn-raising analogy was appropriate for the program, adding that lessons learned from pioneers, a strong work ethic and local talents and resources create a foundation for rural initiatives.
Newcomb said that he tried to combine the ideas of individuals with the expertise that already exists in the counties. He said it took time to develop relationships and forge the trust necessary to invest time and money in fledging ideas.
Statewide programs
Legislators and state officials are looking at the success of the program as well as ideas generated by Gov. Kathleen Sebelius and her prosperity summits. One goal, Wilk said, would be to bring together entrepreneurial programs to foster a better relationship between individuals, communities and the state. That may mean locating "help centers" throughout the state.
"Topeka sometimes can just be intimidating. That's just the reality," Wilk said.
Newcomb agreed. He said many of the people he worked with didn't have access to high-speed Internet service to download grant applications, nor were they inclined to drive several hours to meet with commerce officials in Topeka. Breaking down those barriers will encourage people to follow their dreams and keep communities thriving, he said.
"It doesn't matter what it is, it's a building that's no longer vacant on a town square," he said.
A glance at the population and unemployment rates for the counties participating in the enterprise facilitation program. Unemployment figures represent the rates as of the creation of the first projects in January 2002, through the preliminary estimates for October 2003.
County
2001 Population
January 2002 Unemployment
October 2003 Unemployment
Quad County Enterprise
Chautauqua
4,270
5.4
3.4
Elk
3,189
4.7
3.9
Greenwood
7,771
6.0
4.8
Woodson
3,758
6.0
6.0
Northeast Kansas
Atchison
16,687
4.9
4.3
Brown
10,630
5.7
3.5
Doniphan
8,303
14.8
8.4
Jackson
12,742
3.8
4.6
Nemaha
10,516
3.2
1.9
Four County Sunflower Region
Barber
5,163
2.8
2.7
Harper
6,335
3.3
3.8
Kiowa
3,132
1.8
1.5
Pratt
9,544
2.0
2.1
Western Kansas Consortium
Greeley
1,503
2.2
3.7
Kearny
4,562
4.8
3.4
Lane
2,091
5.5
3.6
Scott
5,002
1.4
1.8
Wichita
2,538
2.4
2.7
Prairie Enterprise
Barton
27,810
2.9
3.2
Edwards
3,325
2.1
1.8
Ellsworth
6,488
3.0
2.2
Rice
10,588
3.3
3.0
Russell
7,166
4.2
2.3
Kansas
2,694,641
4.9
4.7
Source: Associated Press
Copyright 2018 The Associated Press. All rights reserved. This material may not be published, broadcast, rewritten or redistributed. We strive to uphold our values for every story published.