The Lawrence school district Friday presented its annual master teacher award to a special-education teacher with 27 years of experience.
Pat Grzenda, who teaches adaptive physical education to children with disabilities, was stunned by her selection as 2003-2004 Lawrence master teacher.
She had been called to district headquarters for an administrative meeting. Inside, friends and colleagues who kept the announcement a secret waited to pay tribute to her.
"It was very shocking," Grzenda said. "This is quite an honor."
Supt. Randy Weseman said she would be nominated for the Kansas master teacher award.
"We think it's about time you had this title," Weseman said.
Many people outside special education know Grzenda for the years she was swimming coach at Lawrence High School and coach of the youth swim club Aquahawks.
Master teacher candidates must have taught for at least five years. They must exhibit outstanding professional service, teaching effectiveness and constructive service to the community and promote the advancement of education.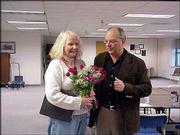 Grzenda's admirers heaped plenty of praise on the new master.
Paula Flannery, a special-education teacher, said Grzenda was committed to making certain all students participated in activities at some level.
"There is no manual for this job, because each student is different," Flannery said. "There is only Pat's belief in the dignity and uniqueness of each student and their ability to show progress at their own level."
Teacher Brad Stoll added, "In the world of special education, teachers need a balance of patience and structure, and Pat is an excellent example of this."
The district's award doesn't carry a cash prize.
Copyright 2018 The Lawrence Journal-World. All rights reserved. This material may not be published, broadcast, rewritten or redistributed. We strive to uphold our values for every story published.