Bill Whittemore isn't afraid of taking hits, and that won't change if Kansas University's senior quarterback returns to the lineup for Saturday's regular-season finale against Iowa State.
"I'm not worried about that as much as whether or not I'm ready," Whittemore said Tuesday, a day after he was cleared by KU's medical staff to return from an undisclosed injury. "I don't think coach would put me out there if I'm not ready to play, and I'm not crazy about being out there if I'm not ready because I won't be able to help the team the way I want to. That's the main thing that's on my mind -- whether or not I'm physically ready to help the team.
"The doctors cleared me to play. Obviously, they think I can take a hit. They've been to all the games this year and last, and they know the way I like to play."
Whittemore rushed for 365 yards and seven touchdowns in eight games, but suffered what was believed to be a collarbone injury Oct. 25 at Kansas State. He also had passed for 1,921 yards and tied a school record with 15 touchdown passes.
Coach Mark Mangino said he expected Whittemore to play with the same hard-nosed style -- if the team captain played against the Cyclones.
"If Bill is going to play, he is going to execute our offense," Mangino said. "If he can't execute the complete package, we won't be able to use him."
At issue is Whittemore's range of motion and whether he can make the throws necessary in KU's offense. He felt discomfort after Monday's workout but said he was getting stronger every day.
Whittemore's injury marked the fourth time he's had a season interrupted.
"I just wondered if this body was made for football," said Whittemore, who missed the final three games of 2002 because of a knee injury. "I wondered why it happened, but I know I can come back from injuries."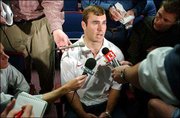 Mangino liked what he saw at Monday's practice when he turned Whittemore loose.
"Bill Whittemore had his most intense workout on the field since he was injured," Mangino said. "He looked pretty good, but certainly not perfect.
"He needs to practice with a lot of intensity and a lot of repetitions for a few days here, and I think we will know for sure. He certainly has a chance to play Saturday; there is no question. After I watch him for a couple more days, if he continues the way he did last night and just continues to build on his practice performance I'd like to say he will be ready to play. If not, Adam will be."
Freshman Adam Barmann is recovering from an ankle injury suffered in Saturday's 44-21 loss at Oklahoma State, but he was expected to be ready for ISU.
KU (5-6 overall, 2-5 Big 12 Conference) needs a victory against ISU (2-8, 0-6) to become eligible for a bowl.
"We have to take care of business," Whittemore said. "This is our only option. We have to get it done."
¢
Watkins questionable: Junior defensive tackle Travis Watkins made his season debut at OSU and made three tackles. KU's co-captain missed the first 10 games of the season because of a broken foot.
Mangino said the lineman's status for Saturday was uncertain.
"He gave his very best, but to his own admission he was not a big factor in the game," Mangino said. "He is really hobbling around."
Watkins broke his left foot Aug. 13 in a preseason scrimmage.
"He just isn't pushing off very well," Mangino said. "He can't utilize that leg and foot in the kind of manner he needs to. In the defensive line there is a lot of leverage and pushing off and changing direction. He just can't do it to his very best. We will just continue to rehab him and work with him. I told him there is no pressure on him to play. As long as he is ready for opening day next fall I'll be happy."
¢
Players of the week: Junior center Joe Vaughn was named KU's offensive player of the week. Defensive honors went to red-shirt freshman Charles Gordon, who had three tackles, a sack and broke up a pass at cornerback. Gordon also made nine catches for 72 yards at receiver. Sophomore kicker Jerod Brooks earned special-teams honors after making a pair of field goals.
¢
Recruiting visits: City College of San Francisco coach George Rush told Sunflower Broadband Channel 6 that quarterback Jason Swanson (6-foot, 190) will make his official campus visit this weekend. Swanson also is considering West Virginia, Oregon State and Southern Methodist.
Swanson led second-ranked CCSF to a 10-0 record and a conference title. The Rams have outscored their opponents 520-81 heading into the Hawaiian Punch Bowl Dec. 6 in San Francisco. The Rams' opponent will be Reedley Junior College, which is led by quarterback Robert Johnson. Johnson picked Texas Tech over KU in recruiting.
According to rivals.com, KU also will receive visits Saturday from Winfield quarterback Nick Patton (6-3, 185) and defensive tackle James McClinton (6-1, 289) of Lakeview Centennial High in Garland, Texas.
Patton is the sixth-rated prep quarterback in the nation. He also is considering offers from Kansas State and Missouri.
McClinton has offers from Houston, Iowa, SMU, Arizona and Baylor.
Copyright 2018 The Lawrence Journal-World. All rights reserved. This material may not be published, broadcast, rewritten or redistributed. We strive to uphold our values for every story published.