You never know when or where you're going to stumble upon a great Thanksgiving recipe, one for a dish that's destined to become a family classic.
It could be shared with you by a longtime neighbor, passed down from an aunt or your mother, or something you saw in a magazine and clipped out.
Betty Lynds, of Lawrence, came up with one of her all-time favorite holiday recipes as a result of eating out one night.
"Many years ago around Thanksgiving time, I had a pumpkin cheesecake dessert in a restaurant, and they wouldn't give out the recipe. So I started looking around for recipes, and what I did was kind of experiment, and I ended up with this one," Lynds said.
Her pumpkin cheesecake has since become a standard at church dinners and her family's Thanksgiving meals.
"Everywhere I go, people want the recipe. It's really good," Lynds said.
Lynds is one of several Journal-World readers who responded to our recent request for area residents to open up their recipe files and share some of their Thanksgiving favorites.
Lawrence resident Dot Smith, a nutrition services consultant for the Kansas State Department of Education, sent in recipes for Cranberry Mallo Salad and a Sweet Potato Casserole that's the best she's ever tasted.
Mildred Kratt, of Lawrence, shared a recipe for Cranberry Chutney that goes well with turkey and a variety of other meats.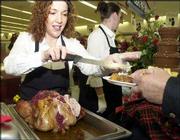 And Kristen Walker, health market manager at Hy-Vee Food Store, 4000 W. Sixth St., shared recipes -- for Organic Turkey with Pomegranate Glaze and Brandied Pecan Pie -- that will have guests swooning.
Even the simplest recipes can prove to be a big hit, such as the dessert recipes -- Pumpkin Cheesecake and Pumpkin Cake Roll -- sent in by Lynds.
The pastor of the congregation that Lynds belongs to always raves about her handiwork at church dinners.
"Just ask him, 'What do you think of Betty Lynds' pumpkin cheesecake?' Everyone I've given it to, no one's ever come back and said, 'Oh, it didn't turn out right.' I've never had it turn out not like it's supposed to," she said.
"Anybody can make these -- just follow the recipes. And the Pumpkin Cake Roll looks like you worked hard."
The Associated PressWeb sites can offer recipes to help liven up the traditional Thanksgiving meal or provide some food safety guidelines. Here are some of them:¢ www.turkeyhelp.com. Cook's Illustrated magazine's site features detailed guidance and recipes for preparing turkey and all the trimmings.¢ www.eatturkey.com. The National Turkey Federation Web site has Thanksgiving recipes and cooking tips.¢ www.mccormick.com. It includes a holiday entertaining guide.¢ www.starchefs.com. The site offers Thanksgiving and holiday recipes, with tips from professional chefs and cookbook writers.¢ www.bhg.com. It offers a Thanksgiving survival guide.
Alternative for vegetarians
Like many cooks, Walker finds that the best dishes are the result of taking a good recipe and improvising upon it.
"I typically take a recipe I see and fiddle with it until it's what I want it to be. It's usually a recipe I've gotten from somebody else, but using organic ingredients, or changing an ingredient from one thing to another," said Walker, whose department at Hy-Vee recently set up a holiday table featuring Thanksgiving foods available at the store.
"I have a Bourbon Pecan Pie that I make, and my husband worships the ground I walk on when I bake it for him. A lot of pecan pie recipes, it's almost like a pudding they fill it with, then they put the pecans on top and cook it like that. I actually make it so that the pecans are the pie. It's really good."
These days, not all of the guests at Thanksgiving dinners will eat turkey. For vegetarians and vegans, there are some turkey-alternative products on the market, such as one called Quorn.
It's actually made of a fungus, like a mushroom, but Walker praised its taste.
"They have a (Quorn) turkey roast. You take it out of the bag it comes in, and you put it into a baking bag with herbs and spices. You get the flavor of turkey, and it is amazing," she said.
"I made it the other night. I gave it to my husband, and he said, 'I can't believe this isn't turkey.' He actually had two servings. I was toying around with the idea of making an apple-cider gravy for it."
Toll-free telephone services offer a variety of specialist answers to cooking and food-safety questions during holiday preparation times. Here are some of them:¢ U.S. Department of Agriculture Meat and Poultry Hotline: (888) 674-6854.¢ Butterball Turkey Talk-Line: (800) 288-8372.¢ Foster Farms Turkey Helpline: (800) 255-7227.¢ Ocean Spray consumer help line: (800) 662-3263.¢ Empire Kosher poultry customer hotline: (800) 367-4734¢ Shady Brook Farms Turkey Line: (888) 723-4468.¢ Perdue consumer help line: (800) 473-7383.¢ Reynolds Turkey Tips Line: (800) 745-4000.
Never fails to satisfy
Smith, the nutrition services consultant, is a longtime cook who learned her way around the kitchen from her mother.
But the Lawrence resident's recipe for Sweet Potato Casserole didn't come from her mom. It came from a student whom she taught home economics in the 1970s at Pembroke State University in North Carolina.
"It really is a side dish for Thanksgiving. I would serve it every year if my family would eat it as much as I do. I love it, and my family likes it OK," she said.
The recipe for Cranberry Mallo Salad, meanwhile, comes from Smith's aunt, Lydia Sander, of Hays.
"It has just the right amount of cranberry flavor. Sometimes cranberry can be really strong, and a little goes a long way. It's just a nice blend of flavors that complement each other. I try to serve it every year, unless my family votes otherwise," Smith said.
Lynds concocted her Pumpkin Cheesecake recipe largely on her own, but the recipe for Pumpkin Cake Roll was shared with her by a friend in Topeka 25 years ago.
"It's a favorite of my son and husband around the holidays," she said.
And the Pumpkin Cheesecake, rich and creamy, never fails to satisfy.
"If you like pumpkin pie, and you like cheesecake, you'll like this. It's got the cinnamon and stuff in it, and with a little whipped cream on top, it's just smooth."
Pumpkin Cheesecake----Graham-cracker crust:1 1/2 cups graham cracker crumbs1/2 cup melted butter or margarine2 tablespoons granulated sugarCheese filling:4 packages of 8-ounce cream cheese (room temperature)1 1/4 cups granulated sugar4 eggs2 teaspoons grated lemon peel1 teaspoon white vanilla2 cups mashed pumpkin1/4 cup heavy cream1 1/2 teaspoons ground cinnamon1 1/2 teaspoons ground ginger3/4 teaspoon ground nutmeg1 cup heavy cream chilled2 tablespoons powdered sugarchocolate curlsPreheat oven to 350 degrees. Make graham cracker crust. In bowl combine crumbs, 2 tablespoons granulated sugar and the butter; mix with a fork.Grease bottom and side of a 10-inch springform pan.With back of spoon, press crumb mixture to the bottom and halfway up the side of the prepared pan. Bake 8 minutes or just until golden brown. Remove to wire rack to cool.Make cheese filling. In large bowl, use mixer and stir cream cheese until light and fluffy.Beat in granulated sugar and eggs, one at a time, beating well after each addition. Add vanilla, lemon peel, pumpkin, 1/4 cup cream, the cinnamon, ginger and nutmeg; mix until well blended and smooth. Pour mixture into springform pan.Bake 60 minutes. Turn off heat. Let cheesecake stand in oven 1 hour. Remove to wire rack to cool completely. Refrigerate three hours or overnight.Before serving; with spatula, carefully loosen crust from side of pan. Remove side of spring form pan. Serve each slice with a dollop of whipped cream with a chocolate curl on top.Submitted by Betty Lynds, Lawrence.Spice Pumpkin Muffins----1 box of Spice Cake Mix1 can 100 percent pumpkin3/4 cup waterMix all ingredients together. Place in 24 lined muffin tins and bake from 14 to 20 minutes at 350 degrees.Submitted by Kristine Schnebly, Lawrence.Pumpkin Cake Roll----3/4 cup flour1/2 teaspoon baking powder1/2 teaspoon baking soda1 teaspoon ground cinnamon1/2 teaspoon ground cloves1/2 teaspoon ground ginger1/4 teaspoon salt3 large eggs1 cup granulated sugar2/3 cup canned pumpkinFilling: 1 cup powdered sugar6 tablespoons butter (softened)1 teaspoon white vanilla1 8-ounce package cream cheesePreheat oven to 375 degrees. Grease a 15-by-10- inch jelly-roll pan, line with wax paper. Grease and flour paper. Sprinkle towel with powdered sugar.Combine flour, baking powder, baking soda, cinnamon, cloves, ginger and salt in small bowl and set aside.Beat eggs and sugar in large mixing bowl until thick. Beat in pumpkin. Stir in flour mixture. Spread evenly into prepared pan.Bake from 13 to 15 minutes until top of cake springs back when touched. Immediately loosen and turn cake onto prepared towel. Carefully peel off paper. Roll up cake and towel together, starting with narrow end. Cool on wire rack.Beat cream cheese, powdered sugar, butter and vanilla until smooth. Carefully unroll cake; remove towel. Spread cream cheese mixture over cake. Re-roll cake. Wrap in plastic wrap and refrigerate at least one hour. Sprinkle with powdered sugar. Makes 10 servings.Submitted by Betty Lynds, Lawrence.Pomegranate Glaze----Seeds of 4 pomegranates3/4 cups Organic powdered sugarCrush seeds until most are crushed and there is approximately two cups of juice. Pour seeds and juice into sauce pan and heat on medium until it begins to bubble. Slowly add powdered sugar, stirring until dissolved. Cover and simmer on low for four hours. This goes with organic turkey recipe.Organic Turkey----14-pound Shelton's Organic TurkeyBrine64 ounces hot tap water16 cups Imagine Organic Chicken or vegetable broth1 cup Woodstock Farms Organic Sugar2 cups Morton's Kosher Salt8 pounds ice1 insulated cooler large enough to hold the turkey when lid is closed.Remove thawed turkey from packaging. Remove giblets, etc. Add tap water to cooler, stir in sugar and salt. Add broth. Add ice. Stir. Add turkey. Leave your bird in approximately eight to 12 hours. Rotate the bird a few times during this process. Remove from brine and pat with flour cloths or cotton towel.If your bird floats and more than an inch or so is not covered by the brine, find a cup, glass, bowl, that you can put on top of the bird so that when you close the lid, it closes completely, but pushes the bird under the broth. Anything less than an inch is OK because you will be turning your bird a few times during this process.Massage one to two sticks of Organic Valley Butter into every part, piece, nook and cranny of the turkey.I think now, most people know not to put the stuffing in the cavity of the turkey, however, here is what I do:The following ingredients were soaked in brandy over night. This is not necessary but adds a provocative infusion of flavor:1/8 to 1/4 cup brandy1 Organic gala apple (sliced to about 1/4 inch thickness)10 Organic Turkish whole apricotsSeeds of 1 pomegranatePut the above in a container (with lid) and tumble so that the brandy coats your mixture but doesn't leave a pool at the bottom for them to swim in.Take approximately 1/2 of this mixture and put it into the cavity of the bird. Put your bird into the roasting pan on a v-shaped rack (if you have it). If not, coil a strip of tin foil (approximately 4 feet) and place it on the bottom of your roaster for the bird to rest on.Add 32 ounces of Organic chicken or vegetable broth to the pan (don't pour over bird). Add remaining brandied mixture to the broth. I also added:4 to 6 sprigs of fresh tarragon2 bouquet garnis4 to 6 pinches herb d'provence4 to 6 pinches of whole Organic clove6 cinnamon organic sticks6 pieces (approximately 1/2 inch) crystallized gingerBefore putting your bird in the oven, fashion a "breast plate" out of tin foil, enough to cover the entire breast. It will look like a "v" or a diamond shape.Put bird, breast up into an oven preheated to 500 degrees. Roast for 30 minutes or until breast has browned. Remove from oven and reduce temperature to 350 degrees. Secure "breast plate" to bird and put back into oven for approximately 1 1/2 to 2 1/2 hours. Do not open the oven after you put the bird in. There is no basting involved in this process and opening the oven door will just let the heat out and take that much longer to cook the bird.If you have a thermometer, poke the probe into the breast (or pre-set it if possible to 161 degrees). Once the breast reaches 161 degrees you can remove from oven. The temperature in the bird will continue to rise for several minutes once you've removed it from the oven.Once removed, cover it with tin foil (or a lid if your roaster has one) and let it sit for no less than 30 minutes. This final step will insure a juicy bird.Once you have moved your bird from the roasting pan to the serving plate, remove your Pomegranate Glaze from the heat add two ounces of Chambord Liquor by slowly pouring and gently stirring it into the glaze. Immediately and slowly pour over your bird and serve.Submitted by Kristen Walker, Lawrence.Brandied Pecan Pie----2 cups, Organic Pecans, toasted1 stick Organic Valley butter (I used salted)1 cup Woodstock Farms Organic Brown Sugar1/2 cup light corn syrup1/2 cup Woodstock Farms Organic Powdered Sugar6 tablespoons bourbon1 tablespoon Organic Vanilla1/2 cup Organic marmalade1 9-inch pie crust.I use Mother Nature's Goodies Pie crust to save time. Lined with tin foil and baked according to directions before filling with pie mixture.Pre-heat oven to 375 degrees. Whisk, brown sugar, corn syrup and melted butter into sauce pan and blend. Slowly add powdered sugar. Whisk eggs, one at a time. Stir in marmalade, bourbon. With a slotted spoon, add pecans. Stir until completely mixed. With the slotted spoon, add pecan mixture to prebaked pie crust (if you haven't lined the edges of the crust with foil, do so before spooning in mixture). Once all of your pecans are in the pie crust and if you have mixture left over, slowly pour it into another bowl being careful not to pour any remaining bourbon out. If you have bourbon left, pour it over your pecans and gently stir into mixture before baking.Bake at 375 degrees about 50 minutes or until tops of pecans start to roast.Submitted by Kristen Walker, Lawrence.Sweet Potato Casserole----6 medium potatoes, boiled3/4 cup sugar2 eggs, slightly beaten1 teaspoon vanilla1/2 cup milk1/2 teaspoon cinnamondash saltTopping:1/4 cup brown sugar1/4 cup white sugar1/3 cup flour1/2 cup nuts3 tablespoons margarine, softened1/2 teaspoon cinnamonPeel and mash boiled sweet potatoes. Add remaining ingredients, except topping, and mix well. Combine all topping ingredients and sprinkle over sweet potato mixture. Bake at 350 degrees for 25 minutes. Serves 6 to 8.Submitted by Dot Smith, Lawrence.Bread and Celery Stuffing----3/4 cup butter or margarine1 large onion, chopped4 ribs celery, chopped2 teaspoons poultry seasoningsalt and pepper to taste1 loaf sliced bread, air dried for 1 hour and cubed1 cup chicken brothIn a Dutch oven, melt butter or margarine over medium heat. Cook onion and celery until soft. Stir in poultry seasoning. Season with salt and pepper to taste.Add bread cubes and stir to coat. Mix in chicken broth.Use as a stuffing for turkey or bake in a buttered casserole dish at 350 degrees for 30 to 40 minutes. Makes five cups.Note: An easy stuffing recipe for a 10-12 pound turkey.Submitted by Rita Flowers, Lawrence.Cranberry Mallo Salad----2 cups raw cranberries4 cups miniature marshmallows1/2 cup sugar1/4 cup apples, chopped and unpared1/2 cup nuts, chopped1 cup whipping cream, whippedpineapple ringsGrind cranberries and stir in marshmallows and sugar. Chill overnight, until marshmallows absorb juice. Add apples and nuts and mix. Fold in whipped cream. Chill thoroughly.To serve, heap on pineapple rings. Serves 10 to 12.Submitted by Dot Smith, Lawrence.Cranberry Chutney----3/4 cup firmly packed light brown sugar1/4 cup white sugar1 cup water2 tablespoons cider vinegar1/2 cup golden raisins1/4 cup slivered almonds, chopped if desired3/4 teaspoon grated fresh ginger1/4 teaspoon minced garlic2 cups fresh cranberries, rinsed and picked overDissolve sugars in water over medium-high heat, stirring constantly; bring to a boil, but do not stir.Add vinegar, raisins, almonds, ginger, garlic and cranberries. Return to a boil slowly and cook until somewhat thick, stirring occasionally, five to seven minutes. Remove from heat, cool and refrigerate.The chutney will keep 10 days in the refrigerator.Submitted by Mildred Kratt, Lawrence.
Copyright 2018 The Lawrence Journal-World. All rights reserved. This material may not be published, broadcast, rewritten or redistributed. We strive to uphold our values for every story published.