Jackson, Miss. — A line of thunderstorms Tuesday moving across the Deep South unleashed an apparent tornado in Mississippi and roared into Alabama with enough wind to topple trees and knock out power to 50,000 customers.
At least 54 people were injured from Texas to Alabama.
Most of the Alabama power outages were between Birmingham and Tuscaloosa, where winds up to 50 mph knocked out car windows and blew down a billboard at a Tuscaloosa convenience store around lunchtime.
Police in Tuscaloosa said one person was hurt as flying debris and stiff winds knocked out windows in several cars and a school bus. Shingles were peeled off the roof of a drug store.
Earlier, in Louisiana, about 40,000 customers west of New Orleans were without power for a time. Waterspouts forced temporary closure of the 24-mile causeway spanning Lake Pontchartrain, and rain swept across metropolitan New Orleans.
In Mississippi, at least three people were injured and more than a dozen homes were damaged when an apparent twister hit rural Smith County. Officials said most of the injuries involved cuts and bruises.
Gov. Ronnie Musgrove declared a state of emergency in central and southern areas of the state because of street flooding and downed trees.
Residents in southeast Texas began cleaning up and assessing the damage caused Monday by storms that spawned a series of tornadoes, flooded roadways and overflowed bayous and creeks.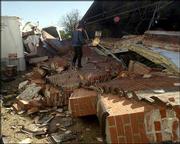 Emergency medical workers treated more than 50 people in Fort Bend County, mostly for minor injuries.
As many as 21 tornadoes on Monday may have hit southeast Texas, said Charles Roeseler, a meteorologist with the National Weather Service.
Copyright 2018 The Associated Press. All rights reserved. This material may not be published, broadcast, rewritten or redistributed. We strive to uphold our values for every story published.