OAKLAND, CALIF. — Twenty-five years ago, Leslie Cathey strapped her baby boy to her back and fled into the jungle of Guyana -- away from Jonestown and the imminent disaster that would take more than 900 lives.
On Tuesday, Cathey spoke to about 100 people at a service remembering those who died when cult leader Jim Jones ordered them to drink cyanide-laced punch.
"Today brings back a mountain of memories to me," said Cathey, whose son, now 28, stood silently at her side. "Today is very painful for all of us."
Cathey joined Peoples Temple as a child, along with her mother and a sister who had entered the temple's drug rehabilitation program -- one of the good works that had community leaders singing Jones' praises.
Looking back, she remembers Jones getting up in the pulpit and talking about his extramarital affairs and wonders why her mother "did not grab our hands and run like hell."
But, she said, she will never know the answer because her mother was among those who died at Jonestown.
The thousands of people who followed Jones, many of them black, were drawn by his preaching of interracial harmony and caring for the poor. Politicians liked him too -- Jones became chair of the San Francisco Housing Authority in 1976.
But reports persisted of problems in the temple -- fake healings, beatings -- and by 1978 Jones had moved his operations to the South American country of Guyana, where workers were building an agricultural paradise in the jungle.
It turned out to be more like a prison camp, with poor food, horrible conditions and Jones' voice, live and taped, going round-the-clock, said Yulanda Williams, another speaker at the memorial.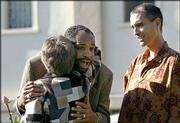 Williams and her immediate family were able to escape some months before the massacre. Cathey escaped on the morning of Nov. 18, 1978, part of a small group that faded away into the jungle.
When they reached the next town they learned of the mass murder-suicide.
"I think what we all wanted was utopia. I think each one of us wants that now; we want to live in a world where there's no poverty, there's no hunger, no crime," she said. "Jim appealed to that need."
U.S. Rep. Leo Ryan of California went in 1978 to investigate allegations cult members were being abused and held hostage.
As he was preparing to return home with 18 temple members, he was ambushed on the airstrip. Ryan, three journalists and a cult defector were killed. Then Jones called for mass suicide.
Babies were killed by squirting the cyanide-laced punch into their mouths with syringes. Most adults were poisoned, some forcibly. Some were shot by cult security guards.
Jones was found with a bullet wound to his head. To this day, it's unclear who pulled the trigger.
Copyright 2018 The Associated Press. All rights reserved. This material may not be published, broadcast, rewritten or redistributed. We strive to uphold our values for every story published.