A divided Massachusetts Supreme Judicial Court ruled Tuesday that same-sex couples have a right to civil marriages under the nation's oldest state constitution, declaring that "the right to marry means little if it does not include the right to marry the person of one's choice."
Never has a state's high court ruled so conclusively on same-sex marriage. The Massachusetts decision went further than the 1993 finding by Hawaii's high court that marriage laws were discriminatory, in that Tuesday's decision directly redefined the meaning of "civil marriage" in Massachusetts law. And it exceeded the 1999 action by Vermont's highest court that required marriage-like benefits and protections for same-sex couples but did not entitle them to marriage licenses.
The court delayed its order for 180 days to allow the state Legislature to react.
Critics of the ruling predicted it will drive same-sex marriage to the center ring of next year's presidential election and will add momentum to an effort, now simmering in Congress, to amend the U.S. Constitution to forbid those unions.
Chief Justice Margaret Marshall wrote the 4 to 3 majority opinion, which acknowledged that it was finding in the words of John Adams a meaning that he could hardly have foreseen when he wrote the Massachusetts Constitution 223 years ago. The longstanding definition of marriage as a union of a man and a woman "deprives individuals of access to an institution of fundamental legal, personal, and social significance ... because of a single trait," namely their sexual orientation, Marshall wrote.
Therefore, the court promulgated a new definition for the purposes of Massachusetts law: "We construe civil marriage to mean the voluntary union of two persons as spouses, to the exclusion of all others."
Future uncertain
It was not immediately clear what the state Legislature could do if it wished to prevent the order from taking effect. Similar court findings in Hawaii and Alaska in the 1990s were overturned by changes to state constitutions. But amending the Massachusetts constitution is a multiyear process, requiring a majority vote by two successive Legislatures, followed by a vote of the public. The earliest those steps could be completed is 2006.
In Vermont, the Legislature created a parallel structure of "civil unions" for same-sex couples, but that result was clearly contemplated in the ruling of that state's high court. The Massachusetts justices gave no direct encouragement to a "civil unions" compromise.
President Bush denounced the ruling and vowed to "do what is legally necessary to defend the sanctity of marriage," though he did not specifically call on Congress to bring the proposed constitutional amendment to a vote.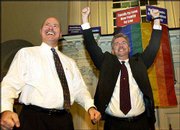 "Marriage is a sacred institution between a man and a woman," Bush said. "Today's decision of the Massachusetts Supreme Judicial Court violates this important principle."
Democrats cautious
The leading Democratic candidates seeking to oppose Bush next year moved cautiously around the Massachusetts ruling, extolling progress toward equality but, in most cases, voicing opposition to same-sex marriage. For former Vermont governor Howard Dean, who signed his state's civil unions bill into law, the issue is familiar -- it nearly cost him his re-election. Among the other candidates faring best in early polls, retired Gen. Wesley Clark appeared to go the farthest in support of the court, saying that "as someone who supports the legal rights of all Americans regardless of sexual orientation, I appreciate today's decision." Clark said he would leave it to each state to decide which marriages to recognize.
A nationwide poll on religion and homosexuality released Tuesday suggests that the marriage issue could be a powerful lever for Republicans to pry away some Democratic-leaning voters in next year's election.
The poll, by the Pew Research Center and the Pew Forum, found that Bush's supporters are unified in opposing same-sex marriage by a ratio of more than 5 to 1. But likely Democratic voters are deeply divided on the issue, with 46 percent supporting marriage rights for gays and lesbians and 48 percent opposed.
Overall the Pew poll, which surveyed 1,515 people Oct. 15 to 19 and had a margin of sampling error of plus or minus 3 percentage points, found that opposition to same-sex marriage has grown slightly since summer, even as the U.S. Supreme Court overturned all anti-sodomy laws and Canada moved to recognize gay unions.
Copyright 2018 The Lawrence Journal-World. All rights reserved. This material may not be published, broadcast, rewritten or redistributed. We strive to uphold our values for every story published.