With a couple of thank-yous, laughs and one quick signature, Alex Brunfeldt broke a barrier in Free State High swimming.
Brunfeldt, a senior, signed a letter of intent Tuesday to swim at Indiana University. He'll be the first-ever swimmer from Free State to compete at the Division One level.
Waking up before sunrise to practice paid off.
"It definitely did," Brunfeldt said. "I'd like to sleep in, but I think it's worth it. I've dropped so much time the last few years."
Now, not only will Brunfeldt swim at the elite college level, he'll swim for one of the elite teams in D-I. The Hoosiers are regarded as one of the more storied swimming programs in the country, holders of six national titles and 23 Big Ten championships. They're traditionally in the Top 25, including a No. 21 ranking at the end of last season.
One of Indiana's main selling points to Brunfeldt was assistant coach Brian Barnes, who used to coach Brunfeldt on the Lawrence Aquahawks before joining the Hoosier staff.
"I really like him," Brunfeldt said. "And the head coach, coach Ray Looze, is an awesome guy. All the swimmers on the team are great people, and I think I can really improve there."
Brunfeldt was the Kansas state champion in the 500 freestyle as a junior last year, and took third at state in the 200 freestyle. In all, Brunfeldt has a hand in five school records at Free State: the 500 freestyle and 200 freestyle, and as a member of the 200 medley, 200 free and 400 free relay teams.
He chose Indiana over Minnesota and Cornell, among others.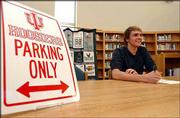 "Minnesota knew how good he is, and Minnesota does a great job -- they really know their talent," Looze said. "The more you see Alex, the more you know he is going to be good.
"He came to the swim camp last summer, and I just fell in love with his attitude, class, dignity and work ethic. Coach Barnes said, 'We have to get this guy.'"
Brunfeldt, who plans to major in kinesiology, is one of five swimmers in a Hoosier recruiting class Looze said would be the "foundation piece for our team for years to come."
Four of the five -- including Brunfeldt -- are state champions.
Looze said Brunfeldt might not be the lunker in the class, but he could be before long.
"He is just a little bit more of a diamond in the rough than the other guys in this class," Looze said, "but in the long run I think he is just going to be outstanding."
Copyright 2018 The Lawrence Journal-World. All rights reserved. This material may not be published, broadcast, rewritten or redistributed. We strive to uphold our values for every story published.