hen one considers a growing hip-hop/rap scene, Lawrence doesn't come to mind. Nevertheless, hip-hop is becoming just as much a part of the Lawrence community as the flourishing rock scene, and it's a big draw for younger listeners.
In the past few years, record labels, hip-hop events, and a handful of artists have started to become a part of the Lawrence community. 5150 Lock 'n' Load productions, co-owned by Keith Loneker, is a recording studio in the downtown area.
"We provide a foundation for Lawrence hip-hop. We've been around for a while," Loneker said.
With recording equipment that Loneker bought mostly with the money he made playing for the Atlanta Falcons and St. Louis Rams, 5150 has recorded and collaborated with local superstar Tech N9ne. A few other local artists that 5150 has worked with are Bochamp, 3AM and Skitzo.
Loneker is trying to get his artists noticed by the mainstream music industry and help the hip-hop scene expand.
"If in the process the label blows up, then that's how it goes," Loneker said.
Lawrence hip-hop also claims a rapidly-growing Web site, LawrenceHipHop.com, on which many of the Lawrence artists communicate and get feedback from fans and other artists. It's proven a draw for younger fans, too. Miles Bonny, a student at Kansas University and the editor of LawrenceHipHop.com, is optimistic about the Web site and wants to see it expand outside of Lawrence.
"I basically provide most of the commentary and kind of the graphics," Bonny said.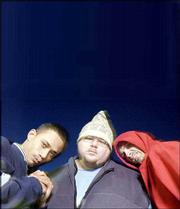 Bonny is in partnership on the Web site with Andrew Giessel and Kevin Green. Bonny met Giessel through the local radio station, KJHK 90.7 FM, which airs out of KU.
In 2000, Bonny created an mp3.com Web site that evolved into LawrenceHipHop.com, which is a refined place to document Lawrence hip-hop.
LawrenceHipHop.com Web site is divided into several different sections -- the venues page that lists upcoming dates of interest to the hip-hop scene; the artist page, where many artists put their bios and pictures; and a section that is host to a large variety of local graffiti, part of the hip-hop culture.
Another interactive section of the Web site is the forum, on which the Web site is based.
"The forum is great because it provides a lot of content, and if you go there every day, any day, it's always very accurate," Bonny said.
Understanding hip-hop
Go to www.lawrence.com for your music and entertainment news, and check out World Online entertainment writer Richard Gintowt's review of Deep Thinkers' "Necks Move."
Although the scene is rapidly growing, some misconceptions still arise about Lawrence hip-hop.
"(Some misconceptions about Lawrence Hip Hop) are that it's like a club, or a group of friends," Bonny said.
According to Loneker, there also are people with the wrong idea about hip-hop in general.
"I have kids coming up here, and old school to them is Snoop Dogg," Loneker said.
Many people in Lawrence who are involved with the rap scene say there are two different crowds, the "backpacker kids" who are strictly focused on the artistic side of hip-hop, and a rougher crowd that everyone associates with typical rap.
Loneker is sure there are two different hip-hop crowds in Lawrence.
"You've got the rap crowd, and then you've got the hip-hop crowd. The hip-hop crowd is the backpacker kids who are on the feel-good stuff that they call real hip-hop. That's not necessarily real hip-hop. Then you've got the rap crowd, which has more of a street edge, and that's the real hip-hop. That's what this whole thing was founded on. Somewhere some dude with dreds that likes to eat hummus decided he liked rap and decided to call it real hip-hop, which is not necessarily true," Loneker said.
The 5150 team is trying to work with "cats who ride the middle, and chop it up right," Loneker said.
Hip-hop collaboration
5150 and LawrenceHipHop.com have been making plans to team up and get the rap community all working together. Both Bonny and Loneker said their main goal was to make music, and make money while doing it, so they could get paid to do something they love.
A big provider of the growing hip-hop scene is Project Groove, put together by Edwin Morales. Project Groove has shows at the Pool Room that only allow observers ages 18 and older.
Hip-hop is becoming less of a trend and more of an art, and there is a positive movement in Lawrence to help build a strong hip-hop community.
"Rap is the voice of struggle," Loneker said. "Even blues is nothing but a bunch of people whining."
Copyright 2018 The Lawrence Journal-World. All rights reserved. This material may not be published, broadcast, rewritten or redistributed. We strive to uphold our values for every story published.