Assaria — Ringo bounded from the kennel, stretched his 7-year-old frame and went on patrol in a wheat-stubble field.
The English pointer snared a scent in the cold, damp air and followed it in a zigzag pattern. Suddenly, his body froze in front of a tuft of dried vegetation. The dog didn't flinch, for there was living, breathing feathered gold lurking in the brush. There was a rustle. His muscles tightened. Then a quail launched from the dead vegetation. Ringo gave chase.
Trainer Dan Manion fired a starting pistol, and the dog lunged for his bounty, catching it in flight. The training session was a success. Ringo returned to his refuge in the back of a pickup truck, and Manion, 61, moved onto his other puppy pupils in the truck.
'Pack leader'
It's a normal workday for the former drywall hanger who dumped a regular paycheck 21 years ago to pursue a passion. Manion calls his business -- Smoky River Gun Dogs, three miles south of Assaria -- a training retreat for hunting dogs. He has clients from as far away as Alaska, sportsmen who send their canine hunting companions for a month or two of Manion's tutelage.
"In a sense, I'm a pack leader," Manion said, referring to dogs' kinship with wolves. "I'm the lead dog."
And, without a doubt, there were Manion-led dogs in the fields Nov. 8, the opening day of pheasant and quail hunting season in Kansas. According to Randy Rodgers, wildlife biologist for the Kansas Department of Wildlife and Parks in Hays, the pheasant numbers are expected to be way up this year -- maybe the best in years.
The quail population is expected to be mostly recovered from the sharp downturn three years ago, he said, and it's believed hunting in north-central Kansas will be about average.
Love of dogs
Manion hones the dogs' instinctive hunting abilities and trains them to be one with the human hunter, obeying commands. He has a way with the animals. They were his major companions as a boy.
"I'd sooner be around dogs than most people," Manion said. "They were my friends."
This teacher is rewarded when his four-legged students grasp his direction.
"It's a joy you can't express," Manion said.
Leashes, live game purchased from local breeders and a bit of technology are among Manion's tools. He trains puppies with electronic collars that deliver a mild shock to provide instantaneous direction.
"It's about like pulling a hair out of your arm," Manion said in describing the collar's intensity. "It's more humane than a lead and a choke-chain."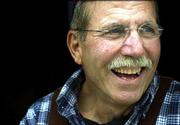 He uses positive and negative reinforcement, patience, persistence and love to train the dogs. The goal is for the dog to respond to the sound of his owner's voice or a whistle. Dogs leave his kennel in condition to work with their humans to bag birds.
"He's got that sixth sense. He can tell what a dog's thinking," said a friend, Mark Miller, who has hunted with Manion-trained dogs for 25 years. "He's got the uncanny ability to train them," he said.
Satisfied customers
Word-of-mouth advertising keeps an average of 10 dogs in his kennels from March through December. A "friend of a friend" prompted State Judge Allen Slater of Olathe to take a German shorthaired hunting dog to Manion in August. The female was in school for 60 days. The judge paid a visit and was pleased with the clean kennel and Manion's expertise.
"I thought he was gentle with the dogs," Slater said, "but clearly they minded him." Slater said his dog "did well" in their first hunt recently in Missouri. He bagged one rooster pheasant and a quail.
"I had a very good experience with (Manion)," Slater said, "and I'll probably take a dog back with him."
A lot goes into training a dog, Manion said, and it begins before selecting one.
"Take the time to decide what you expect the dog to do," he said. "Most people put more thought into buying a pair of boots."
Manion said the majority of his customers were occasional hunters, and their dogs doubled as pets.
"The wife and kids take care of the dog until the old man thinks it's time to go hunt," Manion said. "He'll hunt a few times, and then the dog goes back to being a pet."
Selection
When viewing a litter of dogs, watch them at play, he said, and see if you can spot qualities that fit your needs.
"Watch and see if a puppy points at a butterfly," he said, "or picks up a stick and carries it around the yard."
Manion charges $400 a month, and that price covers all expenses.
"It takes a week or so for the dog to get used to me," he said.
Then comes the evaluation, which Miller said is among Manion's best traits.
"I've never seen a guy who can look at a bunch of puppies and tell you which ones will be winners and which ones won't be," he said. "(Manion) can take a dog and run him for an hour and give you an evaluation that's pretty accurate. He's an honest guy."
Most training takes two months.
"If a dog has a lot of talent, he'll start to look good in a month," Manion said, "but it's just on the surface."
It takes longer for the training to become part of the dog's hunting routine. Some of Manion's former students, such as Ringo, owned by Lewis Mull of Wichita, are brought back periodically for a monthlong "brush-up" session. That costs $200. He also varies training according to client tastes.
Some hunters like their dogs to stay close to them. Others are taught to fan out and patrol a field to spot game and return to "check in." Still other sportsmen prefer hunting from horseback or on four-wheel, all-terrain vehicles. Miller learned to hunt without a dog, but he said having a good one with you added to the enjoyment.
"Half the fun is watching the dog work," Miller said, "just watching the eyes, the intensity."
Copyright 2018 The Lawrence Journal-World. All rights reserved. This material may not be published, broadcast, rewritten or redistributed. We strive to uphold our values for every story published.