Photographer: Mike Yoder
Camera: D1H digital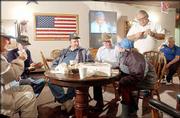 Shutter: F2.8
Lens: 17-35 zoom at 17mm
ISO: 400
Aperture: 1/20th second
My photograph at the American Legion Hall, portraying a group of veterans enjoying coffee and a morning conversation, is an example of photographing a subject that required some technical help to make it reproducible in the newspaper.
Upon entering the hall, I realized that the simplest of photographs -- a direct, honest, straight-on shot of the scene as it was presented -- would be the best way to depict this group of veterans and their environment. The problem I faced was the lack of lighting in the hall.
To photograph the scene, I had to set up two powerful halogen lights. Placing one to the left of the group and another to the right and slightly behind the group, I created the illumination necessary for the photograph. With my lighting in place, I found the best position was one that presented the group members and their surroundings within the frame. Keeping the flag on the wall and the TV in the frame helped balance the upper portion of the image.
Although I shot several frames from this position, I picked this one because of the two men at left and right with their coffee cups raised, the three people in conversation at the center of the table and the position of the man standing at right and his concentrated look at a veteran's patch held in his hands. I also liked the fact that Andy Griffith happened to appear on the TV at the moment of the exposure.
-- "Behind the Lens" is an ongoing weekly series that features an image selected by the Journal-World photo staff that previously ran in the newspaper or online. Wondering how a certain picture was created? Nominate it for "Behind the Lens" by contacting chief photographer Mike Yoder at 832-7141 or myoder@ljworld.com.
Copyright 2018 The Lawrence Journal-World. All rights reserved. This material may not be published, broadcast, rewritten or redistributed. We strive to uphold our values for every story published.