Washington — Forcing the Senate's first all-night session in nine years, Republicans on Wednesday launched a 30-hour "talkathon" on judges to protest a Democratic blockade that has killed one of President Bush's judicial nominations this year and stalled three others.
Working in hourly shifts to hold the floor and guard against surprise maneuvers, senators from both sides of the aisle accused each other of being in thrall to ideological special interests.
The nonstop face-off began at 6 p.m., when more than 30 GOP senators marched into the chamber in a show of solidarity for Bush's nominees. The debate is expected to last until at least midnight today and possibly extend to Friday.
Cots were set up in rooms near the Senate floor so that senators or their aides could nap.
To show that their protest was more than partisan stagecraft, Republican leaders scheduled votes Friday on three nominees, including two Californians who will be getting their first tests before the full Senate: Los Angeles Superior Court Judge Carolyn B. Kuhl, nominated for the 9th U.S. Circuit Court of Appeals in San Francisco, and state Supreme Court Justice Janice Rogers Brown, nominated to the U.S. Court of Appeals for the District of Columbia Circuit.
Democrats predicted that they would block final action on both. Republicans, unsurprised, vowed to make their point and take their case to the public.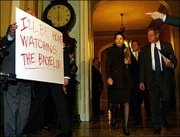 "Our goal is very simple: an up-or-down vote on the nominations," said Senate Majority Leader Bill Frist, R-Tenn. "People can vote up, or they can vote down. Just give us a vote."
Referring to the Senate's constitutional role to work with the president on judicial appointments, Frist challenged the Democrats: "Will we be denied our right to give advice and consent?"
Sen. Charles Schumer, D-N.Y., a ringleader of the blockade, asserted that the debate would "boomerang" on Republicans when the public realizes that the Senate has confirmed 168 Bush nominees for trial and appellate judgeships and blocked just four by filibuster.
"We have been reasonable," Schumer said. "We have been careful. We have been moderate."
Copyright 2018 The Lawrence Journal-World. All rights reserved. This material may not be published, broadcast, rewritten or redistributed. We strive to uphold our values for every story published.