Kansas ranks among the nation's worst states in adequately funding tobacco prevention programs for children, a new report charges.
The Sunflower State ranked 42nd among the 50 states and the District of Columbia in the report released Wednesday by a coalition of public health organizations.
It's not because the money for prevention programs isn't available.
Since 1998, Kansas has taken in more than $242 million as its share from a settlement among the five major cigarette companies and 46 state attorneys general.
But according to the report -- which was funded by the Campaign for Tobacco Free Kids, American Lung Assn., American Heart Assn. and American Cancer Society -- Kansas is spending only 2.8 percent of the amount recommended on smoking-prevention programs.
"What we have here is a real missed opportunity to reduce and prevent suffering from tobacco-related illness," said John R. Seffrin, chief executive officer of the American Cancer Society. "Comprehensive tobacco control programs work, but only if they receive funding. States are doing a real disservice by not living up to promises made in the settlement agreement."
Paying for other programs
The federal Centers for Disease Control and Prevention recommended that states devote at least 25 percent of their settlement funds to anti-smoking efforts for children. In Kansas, that would mean spending at least $18.1 million a year, the CDC said.
Instead, the report found, the state is spending about $500,000 a year on such programs.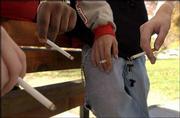 The biggest reason Kansas doesn't spend more on tobacco-prevention programs is that much of the settlement money goes into the state's general fund to help pay for a broad array of government functions, said Joyce Cussimanio, executive director of the Kansas Children's Cabinet and Trust Fund.
"Neither the Cabinet nor the Legislature were willing to invest $10 (million) to $12 million in tobacco-prevention programs," said Cussimanio, whose agency is charged with advising the Legislature and governor on the use of tobacco settlement money.
Gary Brunk of Kansas Action for Children said he could see why Kansas was ranked near the bottom nationally.
But while a relatively small sum goes specifically to tobacco-prevention programs, he said, from $40 million to $50 million each year goes toward programs geared to otherwise helping children and families.
The programs, which include Smart Start and Parents as Teachers, target families with children age 5 and younger. Kansas officials, Brunk said, are convinced those programs will indirectly reduce teen smoking.
"Kansas actually has done a better job than most other states," he said. "They've done broad prevention programs for families. It's something unique in the nation."
In Lawrence
Diane Ash, smoking-prevention team leader for Lawrence public schools, said the district received grants for programs such as Safe and Drug Free Schools, and Safe Schools, Healthy Students.
But the smoking-prevention program mostly relies on classroom teaching.
"Primarily (anti-tobacco education) is taught through health and science curriculum. We also train students through a program called Students Teaching About Tobacco, to talk to (elementary) students about tobacco," Ash said. "Prevention requires a great deal of money, because the best prevention reaches so many levels."
Wednesday's report, "A Broken Promise to Our Children: The 1998 Tobacco Settlement Five Years Later," was not all doom-and-gloom for Kansas. The state placed higher this year than the No. 45 ranking from the 2002 report.
Just four states -- Arkansas, Delaware, Maine and Mississippi -- fund tobacco-prevention programs at the minimum level recommended by the CDC, the report noted.
Copyright 2018 The Lawrence Journal-World. All rights reserved. This material may not be published, broadcast, rewritten or redistributed. We strive to uphold our values for every story published.