Nebraska University's football team gained just 26 yards on six plays in the second quarter as Kansas University ate the clock with a ball-control offense Saturday at Memorial Stadium.
But the Cornhuskers turned the tables on the Jayhawks in the third period, intercepting Adam Barmann twice and using a grinding running attack to take a 14-point lead en route to a 24-3 victory.
"The turnovers that we created were just guys making some big plays," NU defensive coordinator Bo Pelini said. "The turnovers were timely, and we were fortunate for those. KU has put up a lot of points on other teams, and we feel that we did a good job holding them to three points today."
The first third-quarter interception was crucial because the Jayhawks (5-5 overall, 2-4 Big 12 Conference) were marching downfield and faced second-and-five at Nebraska's seven-yard line. Daniel Bullocks intercepted Barmann's pass at the one-yard line and returned it 11 yards.
The Cornhuskers drove 88 yards in four minutes behind rarely used Cory Ross. The 5-foot-6, 200-pound I-back, who entered the game with just 36 carries, rushed six times for 46 yards on the drive, picking up three first downs.
Nebraska gave the ball to fullback Steve Kriewald on first-and-goal from KU's six. Kriewald scored on a one-yard run early in the second quarter, but this time he fumbled the ball just inches from the goal line. KU's Tony Stubbs recovered the ball in the end zone, giving the Jayhawks another chance to drive and tie the game.
Barmann threw another interception three plays later. Mark Simmons couldn't catch the pass and Josh Bullocks -- Daniel's twin brother -- grabbed the deflection at KU's 38.
"It was not an easy play, but when you get opportunities like that to make plays you have to take them," Josh Bullocks said. "We gained a lot of confidence from the turnovers, and we also gained a lot of confidence from the game in general."
Nebraska (8-2, 4-2) finally capitalized on Barmann's second-half mistakes, scoring four plays later on a four-yard run by Judd Davies. Ross again did most of the work on the drive, carrying three times for 22 yards.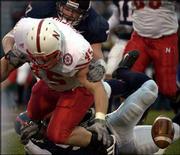 Ross finished with 108 yards on 19 carries, all after halftime.
"He had a thigh bruise after last week's game," NU head coach Frank Solich said, "but he's shown enough in practice and the few times that he's been in games that he needed to have a shot. I thought he responded really, really well. He had a great game. I thought it especially showed his quickness and strength."
Copyright 2018 The Lawrence Journal-World. All rights reserved. This material may not be published, broadcast, rewritten or redistributed. We strive to uphold our values for every story published.