Cell phone users are about to get a new friend -- their cellular telephone service provider.
After years of receiving nothing but a bill from their wireless carriers, industry experts are predicting cellular consumers soon will start getting the royal treatment from the likes of Verizon, Cingular and Sprint PCS.
The extra attention and pampering comes courtesy of a new Federal Communication Commission regulation that begins to take effect Nov. 24. The new rule allows cell phone users to switch service providers without being required to change their phone number.
That's never been allowed before, and cell phone companies are worried the new opportunity will spur many customers to change services now that they no longer have to worry about the hassle of giving out a new phone number to friends or business associates.
Some analysts are predicting that an additional 12 million people in the next 12 months will switch their wireless phone providers. That would be an increase of about 30 percent over current levels.
The numbers have cellular providers rolling out a host of incentives and discounts to make sure their customers aren't among the switchers.
"It is almost like you are in a marriage and all of a sudden the husband brings the wife flowers after never bringing her flowers before," said Roger Entner, a program manager with the Yankee Group, a Boston-based consulting firm that follows the wireless industry. "That's how wireless companies are going to start treating you."
What it all means to consumers is that they're in the driver's seat when it comes to striking a deal with a wireless provider.
"Carriers are going to really listen to you because they have to figure out a way to keep you instead of just relying on you to stay with them because you like your phone number," J Sanders, a manager with Lawrence's Midwest Digital store, said.
The biggest strategy in the industry, thus far, appears to be offering upscale phones at cheaper prices.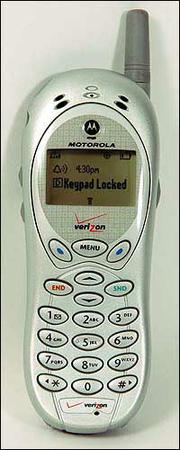 Sanders said one company was offering a free color-screen camera phone, which usually sells for $150, to customers who agree to stay with their current provider.
"That is super aggressive," Sanders said. "It is horribly aggressive."
According to Wireless Week, one of the leading trade publications for the industry, other carriers like Verizon and Alltell are guaranteeing a free phone every two years to customers.
Others are offering rebates up to $100 on the latest phones.
But the deals aren't entirely without catches. Many of them require customers to sign a contract for at least two years. Entner said longer-term contracts are the industry's major strategy for making it difficult for consumers to switch providers.
"Without signing up for a contract, you get pretty much nothing," Entner said.
Lawrence in or out?
There is uncertainty about whether Lawrence residents will be able to start transferring their phone numbers beginning Nov. 24.
The FCC regulations only require the service providers to begin transferring numbers in the 100 largest metropolitan areas. Wireless providers don't have to provide the switching service to other areas until May 24.
Lawrence is not among the 100 largest metro areas. Because of that, Sanders said he has been telling customers that they'll have to wait until May 24.
But Derek Osborn, chief financial officer for Lawrence-based Simply Wireless, said he thought there was a chance Lawrence customers could start switching on Nov. 24.
That's because virtually all the companies that provide service in Lawrence are the same companies that provide service in Kansas City.
Osborn said that may mean service providers for practical purposes will consider Lawrence a part of the Kansas City market and allow the switching to begin.
"We're waiting to get more direction from the carriers themselves," Osborn said. "They're not sure how it is going to work yet either."
Regardless, area wireless retailers are expecting a rush of inquiries come late November. The largest number of switchers are expected to be people who work in small businesses who have advertised their cell phone numbers.
"You have guys out there who have been unhappy with their service for years and years but have been unable to move because they've invested so much in their phone number," Osborn said.
Glen Sohl, a real estate agent with Realty Executives, said real estate agents like to keep the same number.
"A lot of people go to a lot of effort and spend a lot of money to create a number that is easy to remember," Sohl said. "Like the last four digits of mine spell S-O-L-D.
"I'd hate to give that number up. That's what has kept me with Verizon during the ups and downs of their service."
How it works
The FCC is predicting that transferring a number to a new carrier should be a relatively painless process. The process is started by simply asking the new carrier for the transfer. In most cases, the switch should be made within three hours, according to the FCC's Web site.
But the FCC also warns that the carriers can charge a reasonable fee to make the switch. Most companies haven't announced what, if any, those fees would be. But the FCC recommends consumers ask their new carrier to reimburse them for any fee their old carrier charges.
Also, the new law doesn't allow consumers to break existing service contracts to switch to another carrier. In other words, if customers still have six months left on a contract when they leave, early termination fees likely will apply.
A switch to a different service provider most likely will require a new phone. Osborn said most digital phones can't be reprogrammed from one provider's technology to another.
Copyright 2018 The Lawrence Journal-World. All rights reserved. This material may not be published, broadcast, rewritten or redistributed. We strive to uphold our values for every story published.