Parents behaving badly -- the Rev. Virgil Brady has seen plenty of that in the world of youth sports.
That's why Brady, pastor emeritus of First United Methodist Church, 946 Vt., has written a self-published book called "The Score is Love All: Timely Tips for Strong Parent-Child Relations in Youth Sports" (iUniverse, July 2003).
Brady, 64, got the idea for the book from his sons, Kevin, 39, and Kip, 35, who run the Brady Tennis Camps in California.
"They initiated the idea. They said, 'Dad, we ought to write a book.' We hear a lot from kids who say that their parents are doing some things that are not helpful around their tennis game. We started brainstorming, and one thing led to another," said Brady, who served First Methodist from 1983 to 1999.
"I took their ideas and combined them with my interest in sports and my interest in counseling. It's aimed at parents, and at parents who have kids in sports. It does have some things to say about what makes life worthwhile and meaningful."
Brady worked on the book for about a year before it was published this past summer by iUniverse, a publish-on-demand company. He initially ordered 200 copies and estimated he has sold more than 100 of them.
The 120-page paperback, divided into 10 chapters, is designed to help readers learn how to do things such as: raise "successful" children, deal with burnout and boredom, respond to anger, motivate young people, bring about change, incorporate listening skills and keep the game fun.
Brady wrote the book as an antidote to parents who become demanding and overinvolved in the sports activities of their children, and then behave inappropriately.
"There are a lot of accounts in newspapers and television about some of the things parents do at kids' games that are unhealthy and bizarre. The book is aimed at trying to help parents respond to the their kids and the game, so that there is not so much pressure and the game is fun," Brady said.
He based the book upon his own experiences, both as an athlete himself and as a parent, in dealing with youth sports.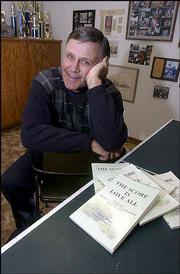 Kip Brady, and Virgil Brady's daughter, Kara, were state tennis champions at Lawrence High. And Kevin Brady played tennis for Kansas University.
Their father, who loves to golf and play tennis, was a starting basketball guard from 1958 to 1961 at Wichita State.
Aside from writing his book, Virgil Brady recently finished leading a six-session workshop at First Methodist for parents of children ages 6 through the teenage years.
The workshop covered much of the same territory as "The Score is Love All."
"I gave a presentation (each class), there was discussion and some role play to help parents know how to better communicate with their kids. It went well -- I had a good time," said Brady, who has trained in pastoral counseling.
Brady said he has seen bad behavior and poor sportsmanship among parents -- and participants -- in Lawrence youth sports.
He explained the dynamic that leads to parents behaving badly at their children's athletic competitions.
"People like to feel like they're winners, and when their teams aren't winning, or their kids aren't winning, they feel like they're losers or failures," he said.
"I think that's why parents respond in some of the crazy ways that they do. They get so identified with winning and with their kids. They get so emotionally involved."
---
The Rev. Virgil Brady will discuss, sell and sign his book, "The Score is Love All: Timely Tips for Strong Parent-Child Relations in Youth Sports" (iUniverse, July 2003), at 7 p.m. Monday in the auditorium of the Lawrence Public Library, 707 Vt.
The cost of the book at the event is $14, including tax. It is also available at First United Methodist Church, 946 Vt.
Brady's book can be purchased at $12.95 on these Web sites: www.amazon.com, www.barnesandnoble.com and www.iuniverse.com
Copyright 2018 The Lawrence Journal-World. All rights reserved. This material may not be published, broadcast, rewritten or redistributed. We strive to uphold our values for every story published.