Houston — Charles Howell III didn't expect to be the center of attention at the Tour Championship, no matter what kind of outrageous clothes he had on.
This was supposed to be about Tiger Woods, Vijay Singh and a few others turning the PGA Tour finale into a campaign for player of the year.
Howell was hard to ignore Friday at Champions Golf Club, not because of a turtleneck that was a blend of aqua and algae.
He went from pitiful to nearly perfect in one hole -- a bogey to an eagle on the scorecard -- for his second straight 4-under 67 that gave him a one-stroke lead over Fred Funk going into the weekend.
"There was a lot of buildup this week to Tiger and Vijay and who would be player of the year," Howell said. "There wasn't a lot of attention on myself coming into here, just as there wasn't a lot on Fred Funk.
"I guess you come in here with not much attention and not much expectations from the media, and then you play well. Who knows?"
Eight players were tied for the lead at one point on a cool, overcast day at Champions Golf Club. Howell needed just two holes to separate himself from the others -- and leave Woods and Singh even further behind.
Howell was at 8-under 134 and will play in the final group today with Funk (67).
Retief Goosen, coming off a victory last week at Innisbrook, was among those tied for the lead late in the round until he had to scramble for a bogey on the 17th hole. He shot 67 and was another stroke back at 136.
Woods, needing a victory for any chance of winning the PGA Tour money title, didn't make as many mistakes as he did in the first round. Then again, he didn't make any putts either.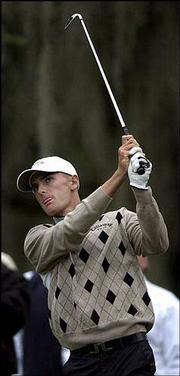 Woods finished with another 70 and was at 140, six strokes behind.
"Obviously, tomorrow is going to be a very important day to see if I can put myself in position come Sunday," Woods said.
Singh recovered with a 68 and was tied for 16th at 141. He only needs to finish in at least a three-way tie for third to win the money title, although the tight PGA Tour player-of-the-year race could be a toss-up if neither he nor Woods wins.
Perhaps everyone should have seen this coming from Howell.
While this is only his second Tour Championship for the top 30 on the money list, he has posted all six rounds in the 60s.
This is the second straight year Howell led after 36 holes in the PGA Tour finale.
"Maybe it's because it's the end of the year and I know that we have a break coming up," Howell said. "It's kind of a nothing-to-lose mentality."
Davis Love III finished much better Friday and shot 67. He also was at 140 and needs a victory for player-of-the-year consideration.
Masters champion Mike Weir, the other top candidate, all but took himself out of contention by hitting into the water on the par-3 12th and making double bogey. He shot 73 and was 10 strokes behind.
Just about everyone else -- Woods included -- still is in it. Fourteen of the 31 players were within six shots of the lead.
"A lot of guys have a chance to win," Woods said. "I'm right up there with those guys."
Despite a sluggish performance, Woods was only two strokes out of the lead when he drove into the left rough on the par-5 ninth for the second straight day.
He went around and under a tree from 207 yards away and wound up 40 feet right of the hole for an unlikely chance at eagle and a share of the lead. But he hit it too hard, and tapped the putter against his head as the ball was rolling 18 feet past the hole. He made par.
Singh was solid, and much more successful on the greens.
He was still seven off the lead after his 68, but unlike Woods, the big Fijian does not have to win this week to clinch the PGA Tour money title. Besides, he still has designs on becoming the first repeat winner of the Tour Championship.
"I think I have a good chance," he said.
Much of that depends on Howell.
He made his only bogey with a 3-iron that missed its target 50 yards to the right on the par-3 12th, but all that did was get him going.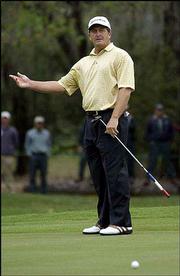 After a good drive on the par-5 13th, Howell laced a 4-iron within 10 feet for eagle. Then, he hit an 8-iron to 10 feet on the next hole for a birdie.
"The whole round was right in those three holes there," Howell said.
He added a birdie on the par-3 16th with an 8-iron to 12 feet to shoot the lowest round for the second straight day.
Mizuno Classic
Otsu, Japan -- Annika Sorenstam got off to a fast start in pursuit of her third straight Mizuno Classic title, shooting a bogey-free 9-under 63 to take the first-round lead. South Koreans Grace Park and Jung Yeon Lee were two strokes back after 65s, and compatriot Mi-Hyun Kim had a 66.
Seve Trophy
Valencia, Spain -- Lee Westwood teamed with David Howell to win the first of five best-ball matches at the Seve Trophy, helping Britain-Ireland extend its lead to 61/2-31/2 over Continental Europe. Westwood had four birdies and two eagles, and the Englishmen won their second match, 5 and 3, over Thomas Bjorn and Sergio Garcia to stay unbeaten.
Copyright 2018 The Associated Press. All rights reserved. This material may not be published, broadcast, rewritten or redistributed. We strive to uphold our values for every story published.