When Amy Hurst Rachman came up with the idea for a Baby Jay mascot in 1971, she had no idea it would become as much a part of Kansas University as the Rock Chalk chant.
"I was totally clueless," she said. "When I did that I had no idea the impact I was making. History was made. A star was born. It's a KU tradition."
Now, Rachman wants to keep that tradition alive for future Jayhawks.
KU officials announced Friday that Rachman, who lives in Asheville, N.C., had donated $5,000 to create a new fund for upkeep and purchase of the Jayhawk costumes. Her terminally ill mother, Marti Daniels Hurst, of Boca Raton, Fla., has committed another $57,000 to the fund through her estate.
The money will be used to help buy new costumes -- which are purchased for $5,000 a set about every two years -- and help pay for dry-cleaning, which is required after almost every appearance by the mascots. Rachman said it also could be used for travel or other expenses deemed necessary by KU Spirit Squad leaders.
"That's wonderful," said Cat Jarzemkoski, Spirit Squad coach. "Anytime anyone contributes, we're elated."
Rachman, who graduated from KU in 1974, said she decided to donate the money after organizing a reunion of former Baby Jays in 2001. When she started the mascot, it was one person in one costume who appeared at men's basketball and football games.
Now there are five or six people each year in two costumes, and they do many more appearances each year -- everything from sports to publicity events to birthday parties.
"It turned into this mega-operation," she said. "I can't believe how much these guys and gals do now."
That's not all that's changed. The costumes now are cloth. The original Baby Jay outfit -- which is now on display on the first floor of the Kansas Union -- was made from fiberglass, chicken wire and felt.
Though she now lives in North Carolina, Rachman, a retired physical therapist, remains a die-hard KU sports fan.
That can be hard, living in former KU basketball coach Roy Williams' hometown. After Williams left last year to take the helm at his alma mater, the University of North Carolina, Rachman admits there were some hard feelings.
"I took some heat," she said. "What I'd love to do is win an auction for one of the Jayhawks on Parade. I'd sit it in my garden most of the year, but once in a while I'd drive over to (Williams') house and plop it down."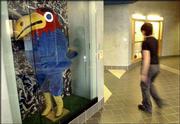 Copyright 2018 The Lawrence Journal-World. All rights reserved. This material may not be published, broadcast, rewritten or redistributed. We strive to uphold our values for every story published.