Lyndon Johnson ruled the U.S. Senate with a mixture of charm and brute force, according to Robert Caro, an investigative journalist and Johnson biographer.
Yet the only time since before the Civil War that the U.S. Senate worked the way the country's founding fathers designed it was when Johnson was its Democratic leader from 1955 through 1960, Caro told an audience that nearly filled Kansas University's Lied Center Sunday night.
"Johnson led the Senate -- he controlled and dominated it," Caro said.
Caro was the first speaker in the 2003 Presidential Lecture Series held in conjunction with the Robert J. Dole Institute of Politics.
A former Newsday reporter, Caro has spent much of his career researching Johnson. He has written award-winning books about the former president, including "The Path To Power," "Means of Ascent" and "Master of the Senate."
Johnson used his power to get major pieces of legislation passed, including measures on low-income housing, the start of Medicare and the first Civil Rights bill in more than 80 years, Caro said.
"Johnson used his power with a ruthlessness that made him even more effective," Caro said. "He looked for power in places no one thought of looking."
Johnson used his own influence with the wealthy Texas oil and gas industry in obtaining campaign donations for other senators while keeping a mental scorecard on how many of them were indebted to him.
Johnson became noted for yelling across the Senate floor and ordering a colleague to change his vote, Caro said. Moreover, he sometimes controlled vote roll calls, speeding them up to get legislation passed and slowing them down while trying to gain one more vote, Caro said.
Johnson went for the jugular and ruined careers to get what he wanted and then called it "just politics," Caro said.
"Nothing was more significant and more amazing than his rise in the Senate," Caro said.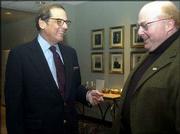 Copyright 2018 The Lawrence Journal-World. All rights reserved. This material may not be published, broadcast, rewritten or redistributed. We strive to uphold our values for every story published.