College Station, Texas — Too bad only two Kansas University football players can wear No. 7. Both were magnificent Saturday afternoon.
You know all about the astonishing debut of freshman quarterback Adam Barmann, who wears No. 7 on offense, but sophomore linebacker Nick Reid, who wears that digit on the defensive platoon, was splendid, too, leading the Jayhawks with 13 tackles.
Barmann had plenty of help, of course, in the Jayhawks' 45-33 loss to Texas A&M; at din-like Kyle Field. Or at least he had more help than Reid did.
Bottom line is the Jayhawks' shabby defense spoiled one of the most impressive debuts in Kansas University football history. Check that. Amend that to shabby ROAD defense. In their four games outside of Lawrence this season, the Jayhawks have surrendered an average of 43 points and more than 500 yards a game.
On this unseasonably warm and humid day, KU coach Mark Mangino basically cleared the bench, using every defensive player he brought to College Station, shuttling them in and out wholesale in a desperate attempt to plug the dike.
It was almost as if in the fabled "Home of the 12th Man," Mangino was hoping he could get away with using a dozen players on defense and the officials wouldn't notice. Often, however, it looked like the Jayhawks had only 10 defenders on the field.
In all the hubbub last week, amid all the speculation about who would play quarterback with Bill Whittemore injured, nobody really listened when Mangino remarked he had bigger concerns than the quarterback position.
Trouble was , he wasn't specific about those concerns.
Again, in the wake of Saturday's defeat -- a loss the Jayhawks could have avoided with even an average defensive performance -- Mangino pointed no fingers.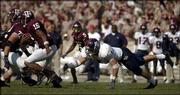 "I said I had other worries than quarterback," he told the media afterward. "If you watched the game, you know what they are."
Well, yeah, but ...
Then Mangino abruptly took off the kid gloves in clear reference to how the defense turned A&M; quarterback Reggie McNeal, known more for his running than his passing, into a young Steve McNair.
"Either we have to pressure the quarterback and play man coverage," the KU coach said, "or drop nine (players) back into zone and rush two. We didn't do either."
Nine games into the season, Mangino no longer could hide his frustration about his swinging-gate platoon.
"We've got to get the defense squared away," Mangino said. "We have to be good at something. But I haven't found it yet. I'm still looking."
In defense of the defense, two linemen who were basically alternate starters -- Chuck Jones and Monroe Weekley -- did not make the trip. Mangino did not say why. And on a day when the heat and humidity were both in the 70s, the Jayhawks needed every body they could muster.
"The heat kind of caught us off guard," Reid said. "It was really warm, and it drained our energy."
The KU sideline was in the sun throughout. The A&M; sideline was in shade most of the second half. But that's an excuse. After all, KU's offense scored 33 points under the same conditions.
Reid is just as frustrated as Mangino about the Jayhawks' inability to force opponents hit the brakes instead of the accelerator pedal.
"We know we can do it. We did it against Missouri," Reid said. "We have to go out and do it."
Back to Barmann, Mangino called the youngster's performance unbelievable.
I sure can't think of a better word to describe how the kid played. He was something. You could watch football for the next 25 years and never see a true freshman quarterback perform with such skill and aplomb in his first game.
Seventeen years ago, a Kansas freshman quarterback named Kelly Donohoe shed his red shirt after the eighth game just like Barmann did Saturday. Donohoe was impressive, throwing for 192 yards and a touchdown in a 17-10 loss at Colorado. Yet Barmann was spectacular in throwing for 294 yards and four touchdowns against the Aggies.
Let's put it this way. If Kansas had won, Barmann would have ascended into the storied lore of KU football history. Instead, in defeat, he is merely a footnote. Barmann has a bright future, granted, but sadly his debut was diluted by a dismal defense.
Copyright 2018 The Lawrence Journal-World. All rights reserved. This material may not be published, broadcast, rewritten or redistributed. We strive to uphold our values for every story published.