Norman, Okla. — Bob Stoops silently stewed as he listened to the chatter coming from Oklahoma State all week.
Oklahoma's coach had the final say after the rout was over.
"Sometimes it's good to be doubted," Stoops said after his top-ranked Sooners beat No. 14 Oklahoma State, 52-9, Saturday.
"There's enough good things said about us. Sometimes it's good to have that sarcasm said about you."
Jason White threw for two touchdowns and ran for another, and Oklahoma's defense was dominant once again in ending a two-game losing streak against the Cowboys.
Oklahoma (9-0, 5-0 Big 12 Conference) remains on track for the Big 12 title and a spot in the BCS national-title game -- the Sugar Bowl -- while Oklahoma State (7-2, 3-2) dropped a game behind Texas and into third place in the Big 12 South.
The loss all but ends the Cowboys' hopes of a BCS game.
It was the first time both teams came into the game ranked since 1988.
Last weekend, Oklahoma State coach Les Miles said the Sooners were the nation's best team, "so we are told."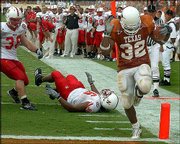 There's no more doubt which team is better.
The momentum of the game shifted late in the first quarter on Darrent Williams' fumble of a punt return. Williams fielded the ball, dropped it, then tried to pick it up. The ball squirted away, and Oklahoma recovered at the 50.
Eight plays later, Kejuan Jones scored the first of his two touchdowns to give the Sooners a 17-0 lead early in the second quarter.
"They are an awfully good football team, we knew that coming in," a more contrite Miles said. "We didn't get exactly what we wanted from our football team, but they certainly did."
In a game that featured two of the nation's top offenses, it was Oklahoma's heralded defense that stole the show.
Oklahoma State's celebrated trio of quarterback Josh Fields, running back Tatum Bell and receiver Rashaun Woods couldn't do much against the Sooners when the game still was competitive.
"All week the whole talk was about their offense," Stoops said. "You would have never thought we played any defense around here."
The Cowboys had more punts (five) than first downs (three) in the first half and had more penalty yards (58) than offensive yards (47) late in the third quarter.
In the Sooners' final show of superiority, Oklahoma State failed to punch the ball into the end zone on three tries from the one early in the fourth quarter.
After Oklahoma stuffed fullback Shawn Willis on fourth down, the school-record crowd of 84,027 exploded into cheers, Stoops vigorously pumped his fist on the sideline, and players were celebrating on the field.
Oklahoma State's only touchdown came on Williams' 11-yard return of an interception 26 seconds into the third quarter.
"We showed a lot of pride and toughness on defense," Stoops said. "Our defense not giving up a touchdown all day, that's the finest defense I've seen them play."
The Cowboys, who came into the game averaging 445 yards, were held to a season-low 161 yards.
Woods, who had 20 catches for 355 yards and four TDs in the previous two wins over OU, was held to four receptions for 25 yards. Fields was 9-of-24 for 62 yards with an interception and was sacked four times, three by Dan Cody.
"They pretty much dominated us," Oklahoma State guard Ben Buie said. "We had to get away from our gameplan. They really didn't surprise us. We knew what they were going to do, but we just couldn't stop them."
No. 16 Texas 31, No. 12 Nebraska 7
Austin, Texas -- Cedric Benson ran for 174 yards and three touchdowns, and Texas got a dominating performance from its much-maligned defense against Nebraska.
Quarterback Vince Young added 163 yards rushing and a touchdown for Texas (7-2, 4-1 Big 12). The Longhorns held Nebraska (7-2, 3-2) to just 175 total yards -- 53 on the ground.
Nebraska's Jammal Lord passed for 122 yards and a touchdown, but ran for just 22 yards on 21 carries and was sacked five times.
Kansas State 38, Baylor 10
Manhattan -- James Terry caught a career-high three touchdown passes from Ell Roberson, and Kansas State pulled away from Baylor.
Terry, only the sixth player in school history with three TD receptions in one game, finished with 138 yards on eight catches. Roberson was 14-for-24 for 242 yards and also ran a yard for a fourth-quarter touchdown.
The Wildcats (7-3, 3-2 Big 12) moved into a tie with No. 12 Nebraska for the Big 12 North lead with their third straight win and the Cornhuskers' 31-7 loss to No. 16 Texas. Baylor (3-6, 1-4) lost its fourth straight game.
Kansas State was a 40-point favorite, but needed a 98-yard drive, capped by Roberson's 14-yard TD pass to Terry with 26 seconds left, to lead 14-10 at the half.
Joe Rheem, who was wide-left from 41 yards out in the second quarter, hit a 44-yard field goal on Kansas State's first drive after the half to make it 17-10. On the Wildcats' next possession, Roberson and Terry hooked up for a 39-yard TD play that put the Wildcats up 24-10.
Copyright 2018 The Associated Press. All rights reserved. This material may not be published, broadcast, rewritten or redistributed. We strive to uphold our values for every story published.