Little Red Riding Hood is the heroine of a story by the Brothers Grimm, written in 1812. It was one of many folk tales they recorded in story form.
"Beauty and the Beast," "Cinderella," "Sleeping Beauty" and "Snow White" were other stories they wrote. Little Red Riding Hood has been popular with collectors. Nineteenth-century Staffordshire potters in England made many figurines showing Red Riding Hood holding a basket or talking to the wolf. Small wax figures of the girl in a red cape were made as decorations for nurseries. Many illustrated books have been published. Plates picturing the events of the story were also made. The Red Riding Hood cookie jar and kitchen sets by Hull Pottery, made from 1943 to 1957, are popular 20th-century collectibles. Dolls, toys and many types of dishes were also made.
More than 200 Red Riding Hood pieces, including a rare umbrella stand, were offered at an auction in California in September. The iron stand with both the girl and the wolf is colored brown, green and, of course, red. The name "Red Riding Hood" is impressed on the front in English. It is marked with only a number on the back, but possibly it was made in Germany in the late 19th century for the American or English market. It auctioned for $4,950.
Why does my favorite political button, a 1900 McKinley-Roosevelt pin, picture a lunch pail and the words "A full dinner bucket"?
The elephant is one symbol of the Republican Party, but there have been others -- including a full dinner pail. The pail symbolized the party's commitment to protecting American industry and labor by supporting a tariff on imports. The pail had been introduced as a symbol of prosperity in an 1894 best seller and was picked up by the Republicans in 1896. But the first political buttons that pictured the pail date from the 1900 campaign. There are at least 15 different dinner-pail buttons from that election. The Republican Party held on to the symbol until the Depression.
Have you ever heard of "suffragette jewelry"?
The suffragette movement started in the United States in 1848 at a Women's Rights Convention in Seneca Falls, N.Y. The official colors of the movement were green for hope, white for purity and violet for dignity. GWV, the initials of the three colors, also stood for "Give Women the Vote." Sashes and clothing were made, and in England suffragette jewelry was introduced. It was made with amethyst (violet), peridot (green) and moonstone (white) stones. The idea soon became popular in America, and costume jewelry with glass stones in the same colors was made. It is only the color of the stones that identifies the special pieces.
I bought a 9-inch stoneware pie plate at a house sale and hope you can identify it. It is pinkish off-white with a smooth interior and a basket-weave exterior. The mark on the bottom is a K in a circle, surrounded by the words "Kathy Kale, U.S.A."
The Kathy Kale mark is found on dishes made in the 1960s by three companies that are no longer in business: Watt Pottery of Crooksville, Ohio; Nelson McCoy Pottery of Roseville, Ohio; and Canonsburg Pottery of Canonsburg, Pa. Your pie plate was manufactured by Watt, which named its basket-weave pattern "Royal Danish."
I have had an unusual electric toaster for years and wonder if you can tell me anything about it. The label next to the temperature knob on the base says it's a "Roly Toaster, Model RT-1." There's another word at the top of the base, but I can only read the first three letters: "Mun." The toaster is made of wood-grained metal and is shaped like a thick letter C. A long, horizontal rack turns on a central axis, so only one piece of bread toasts at a time. The rack tilts so the toast can slide off onto a plate.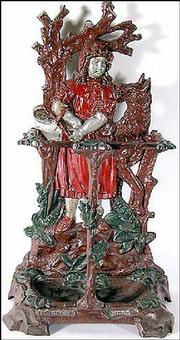 Your toaster was manufactured for only one year, 1977. It was made by Munsey Products of Little Rock, Ark., a company that still makes toaster ovens and other small appliances. Although it was engineered well, the Roly Toaster did not sell -- probably because the warm-up time alone was three minutes, and only one piece of bread could be toasted at a time. It just wasn't practical.
I have a 26-by-40-inch color lithographed poster advertising Royal Dutch Airlines. Below the name of the airline and a KLM emblem, there's a twin-engine passenger airplane in the foreground and another in the background flying over a town and landscape scene. Along the bottom of the poster is the phrase "See twice as much of Europe in half the time." The artist's name and a date, "Charles C. Dickson '28," are printed in small letters. Along the bottom, in small type, are the words "Van Leer, Amsterdam, Printed in Holland."
A poster like yours auctioned in the early 1990s for $1,500. The poster was printed in Holland for the English-speaking market -- travelers from England and the United States. The value of yours depends on its condition.
Tip
Wear gloves when handling valuable photographs. The oils and salts in your skin can damage the photos.
Current prices are recorded from antiques shows, flea markets, sales and auctions throughout the United States. Prices vary in different locations because of local economic conditions.¢ Topper Gumball machine, clear glass with red enamel base, "Mfd. by Victor Vending Corp.," 1950s, 16 inches, $110.¢ Child's tea set, stenciled red Kewpies, white ground, marked "copyrighted Rose O'Neill Wilson Kewpie, Germany," service for 3, $250.¢ Madame Alexander Red Riding Hood doll, cloth, jointed, flocked molded face, painted blue eyes, red cap, 1933-1940, 15 inches, $415.¢ Whistle Soda sign, embossed tin lithograph of soda pop, red-orange ground, navy-blue letters, "Thirsty -- Just Whistle," 14 1/2 x 20 inches, $475.¢ Clarice Cliff butter dish, cover, Bizarre ware, Crocus pattern, purple, blue and orange blossoms, ivory ground, 4 x 3 inches, $550.¢ 1921 Coca-Cola calendar, young woman in blue jumpsuit, white sash around waist, hands on hips, metal band at top, 16 x 36 inches, $910.¢ Tiffany vase, hourglass shape, 3 applied handles in gold Favrile glass, green highlights, signed, 4 1/2 inches, $1,265.¢ Eastman Clock Co. wall regulator clock, Pendulum No. 1, oak case, white dial, black Roman numerals, drop case, red and black painted-glass panel, c. 1895, 33 inches, $1,790.¢ Flip-top game table, oak, round, green-felt flip side, paw feet, "Hunzinger, Pat. Aug, 5-90," 29 x 36 inches, $2,150.¢ Woven blue-and-white jacquard coverlet, cotton and wool, daisy and star interior, fruit tree and picket-fence border, lion in corner blocks, "Susan Greene 1838," 90 x 79 inches, $2,585.
Copyright 2018 The Lawrence Journal-World. All rights reserved. This material may not be published, broadcast, rewritten or redistributed. We strive to uphold our values for every story published.