Two years after a surge of national unity in the wake of the terrorist attacks of Sept. 11, 2001, the United States is once again a 50-50 nation, shaped by partisan divisions as deep as ever that stand between President Bush and re-election.
A year before Election Day, growing questions about the U.S. mission in Iraq and continuing anxieties about the jobs picture, despite recent signs of economic improvement, dominate the political agenda, according to interviews with scores of voters and amplified by a new Washington Post-ABC News Poll.
Three years after one of the closest and most bitterly contested elections in U.S. history, the nation again is polarized over the performance of the president.
Bush's Republican supporters see him as strong and decisive, a man of good character and moral convictions.
His Democratic detractors believe that, at home and abroad, he is leading the country in the wrong direction.
Democrats, however, are virtually invisible as an effective opposition to a president who commands center stage. Even many loyal Democrats complain that their party has no strong leaders and no alternative vision to Bush on either foreign or economic policy.
Partisan views
Bush begins the campaign year with an overall approval rating of 56 percent, according to the new poll. That number is good by historical standards and masks sharp differences between Republicans and Democrats.
Eighty-seven percent of Republicans approve of how Bush is handling the presidency, while 24 percent of Democrats approve. Independents narrowly approve of his performance, splitting 52 to 47 percent.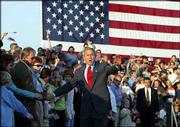 Although there's concern about the state of the country and dissatisfaction with the absence of political compromise in Washington, nationally there's little evidence of the voter anger that helped defeat Bush's father in 1992 and elect a Republican Congress in 1994.
But Bush has lost ground since last year's midterm elections, largely because of perceptions about his handling of Iraq and the economy. Forty-five percent of those surveyed approve of his handling of the economy and 47 percent approve of his handling of Iraq, the first time that number has dipped below 50 percent.
Only 40 percent say he "understands the problems of people like you," the lowest in a Post-ABC News poll since Bush began running for president.
Split decisions
Conflicting attitudes regarding Bush are evident in battleground states throughout the country. Florida is typical: In the state that split evenly between Bush and Democrat Al Gore during the 2000 election, voters seem as divided in their opinions of Bush today as they were then.
"I give him a triple-A in leadership," said Jack Prevost, a corporate banker in Orlando. "He's from Texas, and he's a take-charge, get-out-and-make-a-decision, go-for-it kind of guy."
But Jeannie Clarke, an Orlando mother of a 5-month-old, worries about the economy and dislikes Bush's leadership style. "The mentality of this administration," she said, "seems to be 'everybody be damned, we're going to do what we're going to do.'"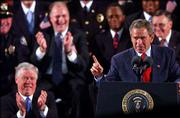 Voter interviews suggest that Bush has made few converts among those who voted against him in 2000, while some of those who backed him say they may not do so again unless there's clear improvement in the jobs situation and stabilization of the violence in Iraq.
Frustration over Iraq
The Sept. 11 terrorist attacks reshaped Bush's presidency and his standing with the voters. Iraq now threatens to undermine public confidence in his administration.
Alan Campbell, of Plymouth Meeting, Pa., voted for Bush and plans to do so again, but he's frustrated with the president's handling of Iraq. "He should have gotten more countries involved instead of just barging in," Campbell said.
Near Albuquerque, N.M., Democrat Lily Villaneuva said it was time for the United States to get out of Iraq. "It would be embarrassing to pull out, but the way they are killing our soldiers," she said. "We should get out before they kill everybody."
Frustration over Iraq runs deep, cutting across party lines.
A majority of Americans (54 percent) still say the war was worth fighting, although partisan divisions on the war are stark. Among Republicans, 81 percent said it was worth it, while 30 percent of Democrats agreed with that statement. Independents were evenly divided, 48 percent saying the war was worth fighting, 50 percent saying it wasn't.
"When I saw the reaction of the Iraqi people when that first statue of Saddam Hussein came down, I just knew deep in my soul we did the right thing," said Larry Logan, a criminal courts judge in Huntingdon, Tenn.
Continuing violence in Iraq has prompted some Americans to raise new questions about how Bush led the country to war.
"It looks more and more like a mistake," said Chris Iverson of Aurora, Colo.
A Bush voter in 2000, he's wavering. "I would like to hear the administration admit that they got it wrong, or got some things wrong," Iverson said. "But you know, from what they're saying now, they think they did everything right. To me, that means they might go into another war."
It's the economy
Even more than Iraq, it's the troubled economy -- and its effect on voters such as Beverly Ozment, an employee of the Carroll County, Tenn., Health Department -- that poses a threat to Bush's re-election.
Her home county is a bellwether for Tennessee and narrowly supported Bush over native son Gore in 2000. Ozment was a Democrat who voted for Bush in that election, but not again.
"Personally, I feel like he's a good Christian man, and I feel good about that, but I don't feel he's pulling our country out of our economy crisis as well as it should be ..." she said. "We need to be pulled out of this, or we'll vote for someone who will pull us out."
The poll found 53 percent approval to 45 percent disapproval of Bush's handling of the economy.
Even with the stunning 7.2 percent third quarter economic burst announced last week, those polled rated the economy negatively by a 2-to-1 margin. As many thought it was getting worse as improving. Only 9 percent said they thought most Americans were better off than they were the day Bush took office; 49 percent said the reverse.
The explanation for the gap between economic numbers and public perception centers on the loss of jobs.
In Wisconsin, a battleground state that tipped narrowly Democratic in 2000, it is not hard to find Bush voters with second thoughts.
John Swiencicki, who recently retired as a deputy sheriff in Racine County, said, "The economy is rough here. Industry has been moving out. My wife is an accountant, and her company, Walker Chemical, moved down South. She hasn't worked for over a year. She can't find anything where her professional training would be used. My old department is cutting people. When I retired, they didn't fill the job."
Tax cuts overlooked
The tax cuts that Bush says have powered a strong economic recovery are rarely mentioned by voters -- and easily dismissed when interviewers raise them as a topic.
Nadine Polk, a Wheat Ridge, Colo., office worker who has switched from considering herself a Bush supporter because of Iraq, said, "It's hard to see what the tax cuts have done for me. We did get that check (the expanded child tax credit), but it didn't even pay for the increase in our property tax. ... I don't see any sign that they helped the job situation."
Such comments help explain why the poll found 53 percent disapproval of Bush's record on taxes and 41 percent approval -- the lowest rating on that question of his presidency.
Copyright 2018 The Lawrence Journal-World. All rights reserved. This material may not be published, broadcast, rewritten or redistributed. We strive to uphold our values for every story published.