Photographer: Scott McClurg
Camera: Nikon D1X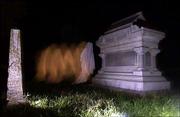 Lens: 17-35 zoom
ISO: 200
Shutter: 3 seconds
Aperture: 5.6
Often times the photographers at our newspaper get an assignment for a photo illustration to help tell a story that doesn't lend itself well to a normal photo. This ghost photo was one of those times.
We needed a photo involving a cemetery to run with our 18 & Under page Scary Story Contest on Tuesday. I went to a thrift store to buy a white bed sheet and dragged a co-worker out to be my ghost.
Since I was shooting a long exposure in the dark, I needed to provide all the light for the tombstones, so I set up three strobes to fire simultaneously.
To create the ghostly image, I had my model walk slowly between the tombstones with the shutter open while I shined a flashlight on him until the end of the three-second exposure, when the three strobes I had set up went off, capturing an image of the ghost at the end of his walk. Using digital cameras, we are limited to relatively short exposures because of the high amount of grain that appear in pictures at longer exposures.
- "Behind the Lens" is an ongoing weekly series that features an image selected by the Journal-World photo staff that previously ran in the newspaper or online. Wondering how a certain picture was created? Nominate it for "Behind the Lens" by contacting chief photographer Mike Yoder at 832-7141 or myoder@ljworld.com.
Copyright 2018 The Lawrence Journal-World. All rights reserved. This material may not be published, broadcast, rewritten or redistributed. We strive to uphold our values for every story published.