Baldwin — The statistics were almost even, and the strategies were the same. The only difference in Saturday's game between Baker University and Benedictine was the final score.
The Ravens (7-2) escaped Liston Stadium with a 17-7 win because one big play broke the game open.
With Benedictine leading 10-7 with four minutes left, Baker was driving for a go-ahead touchdown. Starting from their own one-yard line, the Wildcats (3-5) drove to the Benedictine 47 and decided to go for the jugular.
Quarterback Blake Pearson rolled to the right, pump-faked and lofted a pass to a wide-open Ryan Pitts. Pearson overthrew him, and the pass was picked off by Brock Schwartz, who weaved 83 yards to the Baker seven.
John Willits scored on the next play, and the Wildcats were finished.
"It really hurts," said Baker senior Karl Zubeck, who led the Wildcats with 14 tackles. "We played real well on both sides of the ball. The defense was moving, and the offense was moving the ball really well. It just came down to getting a few breaks."
It was evident early the game likely would be decided by a big play, because the two best rushing defenses in the Heart of America Athletic Conference held true to their ranking. Benedictine tailback Eric Ohlman was held to 54 yards, while Baker's Jon Reeves -- the conference's top rusher -- was limited to 73 yards.
Benedictine outgained Baker, 287-263, in total offense, but every yard was tough for both sides.
The Baker defense consistently made critical stops that gave the offense decent field position. The special teams were big, too, with Jason Martinez blocking a punt and Pat McCollim stuffing a field-goal try.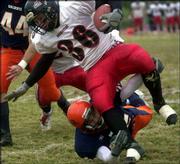 Still, the Wildcats missed two first-half field goals and took a scoreless tie into halftime.
Benedictine scored on its first possession of the third quarter when Fran Johnson hit Richard Harris with a nine-yard touchdown pass. Baker tied the game on the ensuing possession, however, when Reeves' four-yard scoring plunge capped a 14-play, 88-yard drive.
The Ravens regained the lead with Billy Schafer's 18-yard field goal early in the fourth quarter. Baker's rally attempt fell short with the interception.
"We just shot ourselves in the second half, and they capitalized on it," Baker coach John Frangoulis said. "Obviously, when we made the mistakes it was in bad field position for us and gave them good field position. That really hurt."
Copyright 2018 The Lawrence Journal-World. All rights reserved. This material may not be published, broadcast, rewritten or redistributed. We strive to uphold our values for every story published.