Noel Fox and her husband, Jim, have experienced both the joy and the frustration of adopting a child.
The Lawrence couple adopted Sadie Grace, a former foster child, in April 2001. She's now 3.
"The thing that tried our patience the most was the courts and all the delays you go through -- every time there's another hearing, it's another six or eight months," Noel Fox said. "That may not sound like a long time, but in the life of a small child it is."
The Foxes' main frustration was the Kansas courts, but the state's entire system for moving foster children into adoptive homes is drawing heat from several quarters, including judges. And a recent survey found the state's success in finding adoptive homes for foster children lagging behind other states.
Welfare officials say that's not necessarily a bad thing, that it's probably a consequence of fewer children being removed from their homes.
Others aren't so sure.
"Kansas appears to be performing poorly on adoptions," said John Poertner, a former Kansas University social welfare professor who recently retired as director of the Children and Family Research Center at the University of Illinois at Urbana-Champaign.
The national survey, conducted by Fostering Results, a study group at the School of Social Work at the Illinois university, found that since the 1995-97 period, annual adoption numbers in 34 states and the District of Columbia more than doubled. In six, they've tripled.
Kansas averaged 349 adoptions a year between 1995 and 1997. They peaked at 566 in 1999.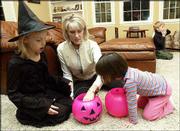 Since then, 468 adoptions were completed in 2000, 428 in 2001, 433 in 2002. In the survey, Kansas' performance was ranked 45th in the nation.
"Kansas has shown improvement, but it hasn't been able to maintain the doubling that most states have," said Fostering Results spokesman Michael Kharfen.
The survey measured the effectiveness of the 1997 Adoption and Safe Families Act, a package of federal mandates aimed at building a fire under the nation's long-stalled child welfare system.
Included in the act were annual bonuses for states able to post significant increases. Kansas received a $315,000 bonus in 1999 but has not met the criteria since then.
State's reasons
Sandra Hazlett, assistant secretary in charge of children and family policy at the Department of Social and Rehabilitation Services, did not dispute the survey's numbers. But the implication that 44 states are doing a better job of finding adoptive homes for children in foster care is hardly fair, she said.
"There are reasons our increases aren't like the other states," she said.
Hazlett argued Kansas had a head start on most states because it privatized its adoption, foster care and family preservation services a year before the federal mandates took effect. So the numbers used to measure Kansas' performance were already higher than their counterparts.
But that's not what the comparisons show.
Iowa, for example, a state similar to Kansas in population and children in foster care when the measurements began, outperformed Kansas by a wide margin. And like most other states, Iowa has not privatized child welfare services.
Contract confusion
Hazlett attributed Kansas' 2000-01 drop in adoption numbers -- to 468 from 566 -- to confusion that accompanied the adoption contract being awarded to Kansas Children's Service League after it became apparent that Lutheran Social Services of Kansas and Oklahoma was headed for insolvency.
Lutheran Social Services, a 123-year-old charity, closed its doors last year because of financial problems brought on by privatization.
Since then, Hazlett said, increasing numbers of foster children have returned home to their natural parents or moved in with relatives, resulting in fewer children entering the adoption system.
"Back in 1999, we had 2,642 kinship placements -- children in foster care, living with relatives," Hazlett said. "In 2003, we've got 3,342. That's a 20 percent increase and that's good. But it adds to the challenge of finding homes for those who remain in the system. They tend to be harder to place."
Hazlett said she and Kansas Children's Service League expect to finalize more than 525 adoptions in 2003.
"We're not where we want to be -- we're not even close to where we want to be," said Sandra Dixon, director of adoption services at Kansas Children's Service League. "But progress has been made and continues to be made. We're doing better."
Judges peeved
Many of the state's juvenile court judges disagreed with Dixon and Hazlett's assessment. Adoption numbers are down, they said, because Kansas Children's Service League is slow.
"The statutes say (Kansas Children's Service League) is to provide the court with a timeline -- the time they say they need to do what it takes to achieve permanency for a child. And I demand that those timelines be filed," said Sumner County Judge Thomas Graber. "But my experience has been that those timelines are hardly ever complied with."
The same is true in Wichita, said Sedgwick County Judge James Burgess.
"There's a lot of reinventing the wheel," he said. "When a kid goes over to the adoption contract, KCSL starts the whole process over again -- home studies, looking for relatives, assessments. Basic stuff.
"Some of that, I can understand," Burgess added. "But when you've got a kid who's been in the same home with the same (foster) parents for one or two years and they're doing really well, it ought to be a slam dunk. But it's not -- some of these cases end up taking almost as long as the really hard ones."
Financial considerations
Burgess said he's offered to speed up the process by waiving some of the proceedings.
"I've never heard back from (Kansas Children's Service League)," he said. "I look at these cases and I just don't understand why they can't get it done. It shouldn't take six months or eight months."
"That's a question a lot of us have," said Shawnee County Judge Daniel Mitchell. "I see it in my courtroom too."
In separate interviews, Mitchell, Burgess and Graber each wondered if the delays were tied to Kansas Children's Service League's wanting -- or needing -- to collect payments for six months rather than one.
"These kids? They're the easy money," Graber said.
KCSL is paid $1,806 a month by the state for each child it has in the adoption pipeline.
Dixon said Kansas Children's Service League would never let financial considerations delay an adoption.
Many times, she said, delays are sought on behalf of the adoptive families.
"They're entering a new system and they want to make sure they'll have access to the services they'll need," Dixon said. "Or if they can make it without the payments they get for being foster parents."
Federal mandates
At SRS, Hazlett said Kansas Children's Service League isn't the problem. Instead, it's the federal mandates.
"A lot of people don't understand that we require KCSL to look for potential family-member placements -- even in cases where foster parents want to adopt. That's in the contract. It's one of the things we have to do to meet federal expectations," Hazlett said. "I don't blame KCSL."
Last month, SRS canceled plans to take bids on its adoption, foster care and family preservation contracts. Instead, the four-year contracts, scheduled to expire in 2004, were extended to 2005.
Hazlett said she'd use the coming year to overhaul the contracts in ways she hopes will both speed up adoptions and still meet federal requirements.
That could mean expanding foster care contracts to include adoptions, a move many say would eliminate much of the duplication built into the current arrangement.
"We believe that permanency could be reached in a much more timely manner if the same contractor did both jobs," said Sherry Love, president of the permanency division at KVC Behavioral Health Care, formerly Kaw Valley Center.
Finding solutions
KVC Behavioral Health Care has the foster care contract for eight counties in northeast Kansas, an area that includes Douglas, Franklin and Jefferson counties.
Combining the contracts is a not a good idea, Dixon said, because when social workers are expected to juggle both foster care and adoption cases, adoption comes up short.
"We have staff who've done both foster care and adoption," she said. "And they tell us that it's very challenging because children in foster care tend to be in crisis, and a good social worker will deal with that crisis.
"At the same time, a child who's in a home with a family that wants to adopt him -- they're safe, they're not in an emergency situation," Dixon said. "So what happens is the worker's time gets spent on the crisis; the others have to wait. It's better to keep the two systems separate."
Noel Fox, 37, has been on Kansas Children's Service League's governing board since 2001.
So far, she said, most of the state's child-welfare debate has focused on SRS, the contractors and the courts. But that's not where the answer lies.
"For things to really get better, we need a lot more people to get involved -- young couples, especially," Fox said, acknowledging that the adoption process "can be incredibly frustrating for everybody involved. But at the same time, it's the most wonderful thing in the world to adopt and to provide a child with a loving, safe environment."
Copyright 2018 The Lawrence Journal-World. All rights reserved. This material may not be published, broadcast, rewritten or redistributed. We strive to uphold our values for every story published.