It was almost like Christmas on Saturday inside the Community Drop-In Center.
A steady stream of about 100 people who are homeless took turns poring over tables and selecting socks, gloves, toiletries and food items to help them through winter days and nights while living in the streets. All of it was free.
"I got some gloves and socks, but I'm going to need more," said one man, who declined to give his name, as he was leaving the center at 214 W. 10th St. "I need some gloves that don't have webbing in them."
The items distributed were collected through a project by college interns for the WRAP program, which stands for Working to Recognize Alternative Possibilities. The program, developed by the Bert Nash Community Mental Health Center, puts mental health professionals in Lawrence schools to try to help reduce absenteeism and discipline problems.
WRAP interns come up with a community service project each year. This year they worked with Lawrence High School, the junior high schools and Woodlawn School to bring in the items that were made available to the people who are homeless.
"It was an excellent response," said Cathy Accurso, a WRAP counselor who was working with six interns, noting the donations came in during a 10-day period in October. "Lawrence is an incredible community when it comes to things like this."
Included among the donated items were 140 pairs of gloves, 310 pairs of socks and "an SUV full" of canned food, the interns said.
No particular item seemed to be in higher demand than the others, said Sarah Payne, 22, an intern from Topeka and a graduate student in social welfare.
"They get whatever they want," Payne said. "Their needs vary."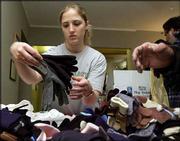 In addition to the gloves and socks, personal-hygiene items such as deodorant, razors and shampoo were especially welcomed, said Barbara Hogue, a volunteer at the center.
"Being able to make a choice also is important to them," Hogue said.
Interns estimated about 100 people came to the center starting at 1 p.m. By 3:30 p.m., the only items left were a small pile of toiletries and several small boxes of food.
Copyright 2018 The Lawrence Journal-World. All rights reserved. This material may not be published, broadcast, rewritten or redistributed. We strive to uphold our values for every story published.