Kansas City, Mo. — The third-year charm of Dick Vermeil seems to be running full throttle for the undefeated Kansas City Chiefs.
At every stop in his NFL coaching career, Vermeil's teams have made dramatic breakthroughs in his third season:
Philadelphia, 1978. The Eagles, who hadn't had a winning record since 1966, went 9-7 and reach the playoffs.
St. Louis, 1999. After winning just four games in '98, Vermeil's Rams emerged to win the Super Bowl.
Kansas City, 2003. The Chiefs at the midway point stand 8-0, the league's only unbeaten team. It's a franchise-record winning streak and matches their victory total of the entire 2002 season.
And it's Vermeil's third year.
Two of the eight wins were not decided until the final play. Two others easily could have gone the other way. Their run defense and third-down efficiency haven't been good.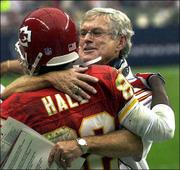 But the Chiefs have yet to lose.
"I don't think anybody on this team really believes anything strange is going on here," cornerback Eric Warfield said. "But we do believe in coach Vermeil."
Indeed, a bond has developed between this team and their emotional 66-year-old leader that is rare in athletics. In football, where intimidation often forms the cornerstone of a coach's style, it may be unparalleled.
Vermeil's message to his players is simple -- he trusts them. He is genuinely concerned for them. And they return his trust with a passionate zeal not to disappoint him.
"He cares about you first as an individual person, and then as a football player," wide receiver Johnnie Morton said. "When I made my 500th catch, he sent my parents a ball. Most coaches don't want to get emotionally involved with their players. He is just the opposite."
Defensive end Eric Hicks added, "There is not a player in this room who has not been in coach Vermeil's home."
A softie he's not. Vermeil's practices are lengthy, demanding and tough. Anyone unwilling to be coached and worked is soon shown the door.
But those who meet his expectations thrive.
"He instills a belief in you which translates into your believing in yourself more," defensive tackle Ryan Sims said. "He's like a parent. He really cares."
Tuesday is the usual day off for all NFL players. But the Chiefs after every win are also given "Victory Monday" off. Anyone who wants to jet out to Las Vegas and party for two days is free to do so.
But Vermeil encourages them to come in on their own for unsupervised film study and conditioning work. So that is what they do.
"From the superstars all the way to the backup players, everybody shows up on Monday," Hicks said.
Vermeil believes it's important for the Monday routine not to be a requirement.
"I don't make it mandatory, because I want it to come from them," he said.
"We haven't averaged more than two guys miss per week. It's never been the same guy twice."
Vermeil admits he's made many adjustments since the Philadelphia days.
"I trust this group so much," he said. "But I think as you get older, if you don't get smarter, you don't get better."
It's another privilege the Chiefs enjoy, however, that's caught the attention of players and coaches everywhere.
"We're the only team in the National Football League that doesn't meet on the road the night before a game," Vermeil said. "We're also one of the very few teams that doesn't meet the night before a game when we play at home."
The Chiefs' peers hear this and think it must be gossip.
"Guys call me up with disbelief and say, 'You all really don't do that, do you?'" linebacker Shawn Barber said with a laugh. "There's a lot of jealousy going around the league right now, because they wonder how we can get it done like this when we don't meet on the road."
Players are not the only ones in disbelief.
"Some coaches have questioned me about my routine. They said they could never do that with their team," Vermeil said. "But that's their team."
No one feels greater loyalty and affection for Vermeil than Dante Hall, whose four touchdown returns on kicks have made him the most electrifying player in the league.
"He has a knack for finding the good in everybody," Hall said. "That's easier said than done. Not everybody can find the good. And once he finds that good, he just focuses in on the good. And it automatically weeds out the negative.
"He does that for everybody on the team. It makes you want to go out and give him your all."
Copyright 2018 The Associated Press. All rights reserved. This material may not be published, broadcast, rewritten or redistributed. We strive to uphold our values for every story published.