Phoenix — Kobe Bryant endured the boos, appreciated the cheers and tried to shake off the rust in his return to the Los Angeles Lakers' lineup.
Bryant made his first regular-season appearance Saturday night, scoring 15 points -- including three free throws in the final 66 seconds -- to help the Los Angeles Lakers' All-Star lineup hold off the Phoenix Suns, 103-99.
He received mostly boos, but some cheers, when he was introduced, and he was booed by some fans nearly every time he touched the ball. But there were Laker fans, too, in the capacity crowd, and he received some cheers, too.
"I expected the worst," Bryant said. "To hear anyone cheering felt good."
A few days earlier, Shaquille O'Neal and Bryant were exchanging verbal jabs through the media. Now, O'Neal feels Bryant will withstand any negative crowd response.
"We've been booed before, so a boo is nothing new to Kobe," O'Neal said. "It's nothing new to us. That's not going to break him. Nothing's going to break him. He's a tough little kid."
Bryant missed a free throw with 10.9 seconds to go and the Lakers leading 102-99, giving the Suns a chance to tie it. But Amare Stoudemire, not known for his outside shooting, missed a three-pointer from the top of the key.
Phoenix coach Frank Johnson said Stoudemire should have passed to Casey Jacobsen.
"Casey was wide open," Johnson said. "All we had to do was make one more pass. But that's a young player."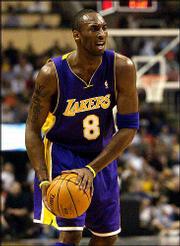 The Suns' Shawn Marion got the rebound, but went up for a shot instead of passing it out for another three-point try. He missed, and Karl Malone grabbed the rebound and was fouled. He sank one of two free throws with 2.3 seconds left to clinch it.
Hornets 97, Celtics 90
New Orleans -- Baron Davis made six three-pointers and scored 37 points to lead New Orleans over Boston, giving the Hornets the first 3-0 start in franchise history. Davis was 6-for-7 from three-point range, his last coming with 4:26 left and giving the Hornets a 91-87 lead. The Hornets hit 12-pointers in all. Kansas University product Paul Pierce led the Celtics with 25, and ex-Jayhawk Raef LaFrentz scored 17 coming off the bench. Vin Baker, who led the Celtics with 24 points and eight rebounds.
Blazers 104, Cavaliers 85
Portland, Ore. -- Zach Randolph had 21 points and 13 rebounds, and Portland defeated Cleveland, holding rookie sensation LeBron James to eight points and six assists. Jeff McInnis came off the bench to score 15 points in the home opener for the Blazers.
Warriors 104, 76ers 90
Oakland, Calif. -- Mike Dunleavy had career highs of 32 points and 11 rebounds, and Calbert Cheaney scored 20 points in Golden State's first victory of the season.
Nuggets 109, Kings 88
Denver -- Carmelo Anthony had 23 points, six rebounds and five assists in his best showing of a young season, leading Denver over Sacramento. Voshon Lenard had 15 points, and Chris Andersen and Rodney White came off the bench to score 12 apiece for the Nuggets.
Spurs 86, Knicks 74
San Antonio -- Jason Hart and Shane Heal handled the point-guard duties in their season debuts for the Spurs, and San Antonio received 15 points from Tim Duncan.
Grizzlies 79, Rockets 71
Houston -- Lorenzen Wright came off the bench to score 21 points, including 10 straight in the fourth quarter, to lead Memphis past Houston. With Memphis trailing 61-60 and 7:39 left, Wright scored 11 points during a 13-2 run.
Bucks 98, Bulls 68
Milwaukee -- Newcomer Joe Smith helped make coach Terry Porter's home debut a winning one, scoring 19 points in Milwaukee's rout of Chicago.
Mavericks 127, Jazz 102
Dallas -- Newcomers Antoine Walker and Tony Delk began looking comfortable in the Dallas offense, each sinking a pair of three-pointers during a third-quarter stretch that carried the Mavericks past Utah. Delk scored 14 of his 22 in the third period while Walker had 10 of his 16. The Mavericks scored 41 points, two shy of the biggest third quarter in team history.
Pacers 103,
Hawks 99, OT
Atlanta -- Anthony Johnson hit a tie-breaking three-pointer in overtime, then sealed the victory by taking an elbow to the face from Jason Terry, leading Indiana over Atlanta. Johnson scored 15 points for the Pacers, who fell behind 14-0 at the start of the game but rebounded to keep the Hawks winless in their home opener.
T'wolves 73, Raptors 56
Minneapolis -- Kevin Garnett had 20 points and seven rebounds, and Latrell Sprewell's defense helped Minnesota hold Toronto to a franchise- low for points.
Nets 98, Wizards 85
Washington -- Jason Kidd had 30 points and nine assists to lead New Jersey past former assistant coach Eddie Jordan's Washington team. Richard Jefferson added 19 points, 10 rebounds and seven assists for the Nets, who never trailed.
Pistons 96, Magic 85
Orlando, Fla. -- Richard Hamilton scored 10 of his 20 points in the fourth quarter, and backcourt partner Chauncey Billups added 17 to lead the Pistons past Orlando.
Copyright 2018 The Associated Press. All rights reserved. This material may not be published, broadcast, rewritten or redistributed. We strive to uphold our values for every story published.