College Station, Texas — Kansas University's football team endured a week of questions about its quarterbacks after senior starter Bill Whittemore was injured Oct. 25 at Kansas State.
The Jayhawks won't have the same distractions this week while preparing for Nebraska.
Adam Barmann set a KU freshman record with 294 passing yards Saturday in a 45-33 loss at Texas A&M.; The Weston, Mo., product completed 25 of 37 passes.
"I think he answered the questions about our quarterback situation," said red-shirt freshman receiver Charles Gordon, who caught nine passes for 89 yards. "We'll be able to move the ball."
Barmann downplayed his performance, giving credit to offensive coordinator Nick Quartaro and KU's other offensive coaches.
"I just stayed within the system," he said. "Coach Quartaro and his offensive system ... it's unbelievable. You saw Bill go out there, and he performed well."
Whittemore was the nation's second-rated passer before his injury, and the Jayhawks hadn't been able to move the ball without him -- until Saturday -- in the last two seasons. Kansas was outscored 164-27 in three games without Whittemore last season and suffered a 42-6 last weekend at Manhattan.
"It's not the system," KU coach Mark Mangino said. "If it was the system, we wouldn't have been in dire straits last season."
Barmann said he wasn't nervous about his first college game.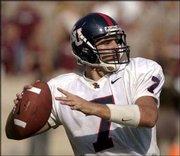 "It's like any other sporting event I've been a part of," he said. "There are jitters right before you go out, but after the first snap everything goes away and you just play."
His 294 passing yards exceeded Whittemore's 240.1 yards-per-game average, and he matched the senior's rushing average with 45 yards. He tossed four TD passes and ran for another.
Barmann's numbers were good, but both teams were more impressed with his attitude.
"He played really well," A&M; safety Jaxson Appel said. "I was thinking he was going to come in and be pretty rattled. He composed himself very well, and he ran the offense the way it was supposed to be."
Sound familiar?
"He was calm and relaxed," Gordon said. "Just like Bill."
The play Mangino liked the most was a 32-yarder that Gordon hauled in at the A&M; one. On third-and-12, Barmann was pressured, eluded a pair of Aggie defenders and threw across his body. Gordon made the highlight-reel play complete with a diving catch.
"Those are things a seasoned veteran sees, not a guy that at his last high school game people were watching from lawn chairs on their front porch," Mangino said.
The jump from Missouri Class 1A to Division I-A didn't bother Barmann.
"They're both I-A," he quipped. "When you get out there, it's just playing football. I've been doing that my whole life."
He'll do it again Saturday when KU (5-4 overall, 2-3 Big 12 Conference) plays host to Nebraska.
Copyright 2018 The Lawrence Journal-World. All rights reserved. This material may not be published, broadcast, rewritten or redistributed. We strive to uphold our values for every story published.