College Station, Texas — Entering Saturday's game against Kansas University, Texas A&M;'s football team had scored just three points in the third quarters of its five losses, each time dropping the Aggies into a hole too deep to escape.
Against the Jayhawks, though, the Aggies broke open a 14-all halftime tie with 24 third-quarter points and coasted to a 45-33 victory at Kyle Field.
KU helped out on the first play of the second half when Derek Mills turned the ball over deep inside Jayhawk territory. Mills, who hadn't played since Sept. 20 against Jacksonville State, fumbled on an end-around to the left, recovered the ball, ran back to the right and was hit by Bryon Jones, who forced another fumble.
Texas A&M; safety Jaxson Appel, who also intercepted a late pass by Adam Barmann, recovered the ball in a pack of players at KU's five-yard line and ran it to the end zone, giving the Aggies a 21-14 lead just 15 seconds after halftime.
"I was getting ready to congratulate somebody on knocking the ball out," Appel said, "and it was sitting right down at my feet, so I just picked it up and ran."
KU head coach Mark Mangino took the blame for the play, noting that he did not have the right personnel on the field.
Even when KU had the players in the game it wanted the next two drives, the result didn't change much. The Aggies' defense continued its strong play, holding the Jayhawks to just five yards on their next two possessions and forcing them to punt both times.
"It was really important for us to make stops," Texas A&M; linebacker Archie McDaniel said. "We just needed to get our confidence back up. We still didn't play as well as we think we should have, but to get a win in our bellies is really big for us."
Texas A&M; (4-5 overall, 2-3 Big 12 Conference) took advantage of both defensive stops, opening a 17-point lead with a 22-yard field goal by Todd Pegram and a 25-yard run by Courtney Lewis.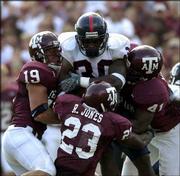 KU's offense finally broke through on the ensuing drive with a 39-yard touchdown pass from Barmann to John Randle, but Texas A&M; answered less than five minutes later with a two-yard scoring run by Derek Farmer.
"That was the way to start the second half," Aggies coach Dennis Franchione said. "We got them pinned down and got a touchdown on defense, which created the 17-point difference. They scored and we answered, and I think that was the big swing in the game."
Barmann, a true freshman playing in his first game, led the Jayhawks (5-4, 2-3) to the end zone again, though, cutting the lead to 12 points, 38-26, with an 18-yard pass to Brandon Rideau early in the fourth quarter.
Pegram missed a 31-yard field goal on the Aggies' next possession, and Barmann started marching KU down the field again.
Jones stepped up once again, though, forcing a fumble on a third-down completion to Rideau at Texas A&M;'s 26-yard line with just under eight minutes left. Aggies linebacker Nurahda Manning recovered the ball, and Reggie McNeal threw a 28-yard touchdown pass to Tim Van Zant 10 plays and five minutes later, clinching the victory.
"Our coach always stresses the importance of turnovers, and I just tried to come up and make plays," Jones said of his two forced fumbles. "The ball was just coming out for us."
Copyright 2018 The Lawrence Journal-World. All rights reserved. This material may not be published, broadcast, rewritten or redistributed. We strive to uphold our values for every story published.