College Station, Texas — Adam Barmann didn't make many freshman mistakes in his first college football game.
His Kansas University teammates did.
Barmann passed for 294 yards and four touchdowns and ran for 45 yards and another score, but two costly turnovers, special-teams breakdowns and 547 yards of total offense by Texas A&M; were too much for the Jayhawks to overcome in a 45-33 loss Saturday at Kyle Field.
"He did a good job," said red-shirt freshman receiver Charles Gordon, who caught nine passes for 89 yards. "We just didn't make enough plays to come out on top."
Backup quarterbacks Brian Luke and John Nielsen were ineffective last week in a 42-6 loss at Kansas State after starter Bill Whittemore suffered an undisclosed injury, so coach Mark Mangino turned to Barmann -- a true freshman -- in the ninth game of the season.
"I don't know a whole lot about the history of KU football -- I'm studying it," said Mangino, KU's second-year coach. "But I can't think of a more gutty performance by a player in recent years here. He not only played well, he managed the huddle, he checked at the line of scrimmage as often as Bill does and was correct in almost every audible he made. Unbelievable. Absolutely unbelievable to think this was his first start in College Station, Texas, in one of the best venues -- hostile venues -- in college football. For a guy to perform like that is unbelievable."
Barmann wasn't fazed by the crowd of 68,487 fans. He completed 25 of 37 passes and set a KU freshman record for single-game passing yardage.
"To tell the truth, I wasn't really nervous," said Barmann, whose previous game was for tiny Class 1A West Platte High in Weston, Mo., where crowds are measure in hundreds, not thousands. "I felt all I had to do was be efficient and get the ball to my playmakers."
Barmann did that. On KU's first possession, he threw a short pass to Clark Green, and the sophomore running back turned it into a 48-yard touchdown that tied the game at seven.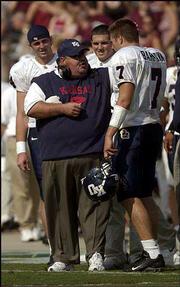 Barmann tied it again at 14 when his one-yard TD run capped a 10-play, 80-yard drive. That score was set up by his 32-yard pass to Gordon.
He completed 12 of 13 passes for 146 yards in the first half alone. His only incompletion was a pass dropped by tight end Lyonel Anderson.
The Jayhawks went to the locker room tied at 14, but things changed quickly in the second half.
On the first play of the third quarter, little-used Kansas receiver Derick Mills fumbled on an end-around. The senior recovered, but lost the ball again when he was hit by defensive back Byron Jones. Defensive back Jaxson Appel scooped up the loose ball and returned it five yards for a score.
"You watch any game played on Saturday, and the team with the least amount of turnovers wins," Appel said. "We really worked on creating turnovers in practice and it worked out for us."
Mangino took blame for the momentum-shifting play.
"It put us in a hole right off the bat," Mangino said. "You have to get in the right plays with your best players on the field. I didn't do that."
The coach was more upset that KU's kick-return team failed to give the offense good field position. That unit had several chances because A&M; scored on all three of its third-quarter possessions. Return man Greg Heaggans was stopped at his own 15-, 20-, 12- and 9-yard lines on four third-quarter kicks.
Mangino blasted the units blockers and said there would be "wholesale changes" before Saturday's home game against Nebraska.
The Aggies got a 22-yard field goal from Todd Pegram -- who missed two other attempts -- and a 25-yard touchdown run by running back Courtney Lewis to expand their lead to 31-14.
Kansas didn't quit. Barmann completed a 39-yard TD pass to freshman running back John Randle and touchdown passes of 18 and 13 yards to junior Brandon Rideau.
But a fumble by Rideau stopped a KU drive at A&M;'s 28, and the Kansas defense couldn't stop Aggie quarterback Reggie McNeal, who finished with 259 yards passing and one touchdown and 71 yards rushing and a TD.
Flanker Tim Van Zant caught five passes for 102 yards and a touchdowns. Lewis added 120 yards rushing.
A&M; (4-5 overall, 2-3 Big 12) had lost five of its previous six games. The Aggies will face Oklahoma, Missouri and Texas in their final three games.
"We have three tough games ahead of us," first-year A&M; coach Dennis Franchione said. "They've all been tough with this schedule. A win is something we needed going into this stretch. ... This was a good win for the players emotionally and mentally. It was good for the fans and coaches, too. We all needed it."
It wasn't good for Kansas, which would have become bowl-eligible with a victory. Instead, KU (5-4, 2-3) will have to win at least one game down the stretch against Nebraska, Oklahoma State or Iowa State.
When it was over, Barmann had exceeded some people's expectations, but not his own.
"Our No. 1 expectation was to win, and we didn't," he said. "That was the only thing I was disappointed in."
Copyright 2018 The Lawrence Journal-World. All rights reserved. This material may not be published, broadcast, rewritten or redistributed. We strive to uphold our values for every story published.