When Dennis Franchione took over Texas A&M;'s football program December 6, he inherited a team that had slipped to 6-6 overall, 3-5 in the Big 12 and fifth place in the league's South Division.
The former Alabama coach also inherited the nation's toughest schedule.
"I think frustrated: That is the best word," Franchione said of his team's morale heading into today's home game against Kansas University. "I think they can put the film on and see they are a few plays away from doing some good things."
Before 2002 -- A&M;'s last season under R.C. Slocum -- the Aggies had winning seasons in 17 of the 18 previous years and had earned 14 bowl berths and seven conference titles in that span.
Rebuilding hasn't been easy. Since opening with victories against Arkansas State and Utah, the Aggies (3-5 overall, 1-3 Big 12) have dropped five of six, with the only victory being a 73-10 blowout of Baylor.
A&M; lost nonconference games at Virginia Tech and at home to Pitt before suffering lopsided league losses to Texas Tech, Nebraska and Oklahoma State.
"I think the thing that makes it easier is you understand what to do," said Franchione, who previously turned around programs at New Mexico and Texas Christian. "You have been there before. When you are going through it for your first time is when it gets a lot harder."
Franchione is laying the foundation with young players. The 70-man travel squad he took to Nebraska included 20 freshmen and 19 sophomores.
One underclassmen giving the Aggie faithful hope is red-shirt freshman running back Courtney Lewis, who carried the ball 26 times for a season-best 171 yards in Saturday's 38-10 loss to OSU.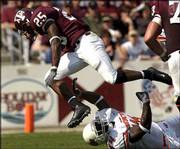 "Courtney has given us some explosive runs," Franchione said. "I don't want to slight Derek Farmer when we talk about this, either. Courtney's growth has given us some big plays, and Derek has chipped in there, too."
Farmer was A&M;'s leading rusher the last two seasons and contributed 117 yards and two touchdowns in last year's 47-22 victory over KU in Lawrence, but the 5-foot-11, 202-pound junior enters today's game with 248 yards.
Lewis (5-10, 191) leads the team with 748 yards and 10 touchdowns. With four games remaining, he has a chance to break the A&M; freshman records of 1,216 yards and 12 TDs set by former Kansas City Chief Greg Hill in 1991.
Franchione, a Kansas native and Pittsburg State graduate, compared Lewis to a former Jayhawk.
"So far he has proven to be very durable and very resilient," Franchione said. "Some guys his size can do that. I remember Kansas University a long time ago had a little guy named Kerwin Bell, but he carried the ball a bunch of times every Saturday and withstood the punishment. There are some backs Courtney's size ... you never seem to get a square shot on him. Courtney is a little bit like that. Not very often do you hit him flush."
Lewis isn't the only underclassman to unseat a veteran player. Sophomore Reggie McNeal has taken over at quarterback, replacing junior Dustin Long.
KU won't miss Long, who passed for 399 yards and three TDs against the Jayhawks last year. But McNeal might be even better. The sophomore has passed for 1,248 yards and seven TDs and rushed for 272 yards and two scores.
"He's definitely an athlete," KU linebacker Nick Reid said. "He can make plays running or passing. He's got a great arm, and he's fast."
Copyright 2018 The Lawrence Journal-World. All rights reserved. This material may not be published, broadcast, rewritten or redistributed. We strive to uphold our values for every story published.