If you see billowing smoke above Wells Overlook south of town this morning, don't be alarmed.
The Wakarusa Township Fire Department will be keeping a watchful eye on volunteers scheduled to burn underbrush at the park.
The effort is expected to blacken 3.5 acres of earth, opening up visibility on walking trails and clearing the way for fresh prairie grasses to sprout next spring.
"This weekend the fire will be a good thing -- better than what's going on right now in California," said Jere McElhaney, a Douglas County commissioner who is leading cleanup efforts at the county-owned park. "This will be a controlled burn to clear things out. It needs it."
The managed fire will be the latest in a string of efforts to spruce up the park, an outlook that covers 17 acres just south of Lawrence. The park is two miles south of the Wakarusa River along County Road 458, less than a mile east of U.S. Highway 59.
Commissioners have spent years searching for ways to clean up trash, discourage vandalism and deter people from loitering or otherwise making trouble at the rural retreat. A year ago they approved McElhaney's plans for organizing an army of volunteer laborers and lining up business benefactors to help.
Crews already have carted off dangerous and dilapidated playground equipment, and a church group helped cut down dozens of unwanted elms, locusts and other trees that had overtaken the once-open area. Bohmann Excavating brought in equipment to handle the heaviest work.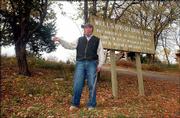 Now it's time to burn off the musk thistle, milkweed and other vegetation that has muscled into the cleared areas, said McElhaney, a former firefighter for the township. Volunteers intend to seed the area with prairie grasses, where necessary.
Several piles of dead trees also will be torched this weekend.
In the end, the park will be much improved, McElhaney said. Since the clean-up effort began, officials already have noticed a decline in vandalism, trash and other problems.
Improving visibility and shoring up the park's landmark wooden tower simply confirm that the county cares about what happens at the park, McElhaney said.
"This is just the first step," he said, surveying the scene Friday afternoon. "People ought to realize that we're moving on this, slowly but surely -- and silently; we're not making a big deal out of this -- but we're getting the job done. And it will be done."
Copyright 2018 The Lawrence Journal-World. All rights reserved. This material may not be published, broadcast, rewritten or redistributed. We strive to uphold our values for every story published.