Brewster — For generations, western Kansans lived fairly isolated lives with distances from neighbors measuring in the miles and trips to town a weekly event.
Modern times encroached on the rolling prairies with electricity, radio, telephone and television, pulling people closer together. Then came the Internet and the window to the world it offered.
In the beginning, it was the take-a-nap-while-you-wait dial-up method; then came high-speed service. But many rural communities found themselves still sitting on the shoulder of the information highway.
Janet Buchanan, Kansas Corporation Commission chief of telecommunications, said the effort to bring high-speed service to rural areas has been under way since the late 1990s. That effort has gained momentum in the past couple of years, she said.
"The technology has been around longer than the actual awareness of it," Buchanan said. "It only has become recently that there is a wider awareness and a growing demand."
Often, high-speed -- known variously as DSL or broadband -- uses telephone lines but still leaves them free for making and receiving calls. It also can be offered over cable lines or by wireless carrier.
"It avoids the need for a second line for dial-up service," Buchanan said. "It should be cheaper for customers in the long run because they aren't paying for a second phone line."
In some cases, larger telecommunications companies and cable operations have been getting into the high-speed business in some parts of rural Kansas. But the smaller companies aren't being left behind.
"There has been a big void in western Kansas in providing high-speed broadband service. The small companies are the ones filling the void and bringing the service to these small communities," said Larry Sevier, who heads Rural Telephone Service Company Inc., in Lenora.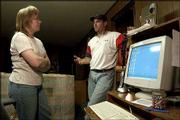 Buchanan said the state had 37 independent phone companies in rural Kansas, ranging from 200 to 17,000 customers. All but five offer high-speed Internet.
One company that offers the service, S&T; Telephone Cooperative, based in Brewster, a community of 300, went into high-speed two years ago in 11 northwest Kansas counties. About 60 percent of its 2,500 Internet customers use high-speed.
Steve Richards, S&T; general manager, sees high-speed as an economic boost. He said when businesses think about locating in rural Kansas, the first thing they asked about was whether there was high-speed Internet service.
"It's like having a good highway," Richards said. "Almost every independent phone company is real aggressive about providing broadband to customers because they know it's what keeps rural areas economically viable."
S&T;'s high-speed service starts at $39.95 per month, compared to $14.50 for dial-up. Richards said larger companies don't offer high-speed service in his area.
Bev Biel, who works at the Colby-Thomas County Chamber of Commerce, said her organization has used high-speed for about a year and it really makes a difference. She said it used to take several minutes to send 200 e-mails; now it's done in a few seconds.
"It doesn't make you feel you are out here all alone. You feel a little less isolated," she said. "That has been a good selling point for businesses."
When S&T; started in 1952, switchboard operators still placed the calls and a single phone line was shared by up to eight households. A half-century later, it offers local and long-distance phone service, cable television and Internet service.
"We're into making money, but we felt it was a necessity for the area and the customers. The demand was there," Richards said of high-speed.
Sevier's company started offering high-speed in 1998. Of its 15,000 Internet customers in about 20 counties, about 3,000 are high-speed users.
Sevier said high-speed starts at $39.95 and dial-up at $9.95. In Hays, the starting price is $29.95 because of competition.
"Our prices are right on target with the big guys, but they are generally providing service to the larger areas," he said. "They aren't providing high-speed to small towns like we are."
Like Richards, Sevier sees high-speed as a key to keeping rural communities thriving in a time when many of them are losing population.
"A lot of them are using this as a selling point that you can start a business and expand a business right here in rural Kansas. They are using it as an economic development tool," Sevier said.
"It goes give them a shot in the arm. They feel like they have a chance to bring these people back to their communities," he added.
Rural Telephone and its subsidiary, Nex-Tech, are competing with bigger companies in some instances, but more often it's a matter of going where nobody else has gone, Sevier said.
But it's not just about economic development.
LaVon Wagoner, who lives in nearby Colby, signed up for S&T;'s high-speed service recently. Her two children love to browse the Internet but that meant the phone line was tied up. High-speed changed that.
"I like the idea of getting hold of them at home when they're on the Internet," Wagoner said. "It freed up the phone line."
Copyright 2018 The Associated Press. All rights reserved. This material may not be published, broadcast, rewritten or redistributed. We strive to uphold our values for every story published.