Big Bear Lake, Calif. — Hundreds of firefighters battling Southern California's wildfires used a break in the weather Friday to bulldoze buffer zones around mountain communities in case the heat and fierce winds return.
"We've got a sleeping giant out there," Forest Service spokeswoman Sue Exline said.
Fog, lower temperatures and lighter winds since Thursday have helped firefighters make progress against fires that have killed 20 people, destroyed more than 3,300 homes and burned about 750,000 acres across Southern California in the past week.
The only major community still threatened was Big Bear Lake, a resort town in the San Bernardino Mountains northeast of Los Angeles. A blaze that has scorched more than 90,000 acres and destroyed hundreds of homes moved to within six to eight miles of the town, emptied out of some 15,000 people earlier in the week.
"The fire is just creeping around, not making these big runs that we had seen," Exline said.
Up to 6 inches of snow was expected to fall in the mountains by this evening as unseasonably cold weather moved into the region. Winds gusting to 30 mph were also forecast.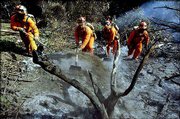 Officials pulled most firefighters off the line for the night Friday as temperatures were expected to drop into the low 20s.
But forecasters said the heat and dry desert winds that whipped the flames into infernos could return early next week, and so fire crews raced to cut 30 miles of firebreaks to protect communities around the lake.
"This is an opportunity," Exline said. "We can get in there in the next 48 hours to fight the fire on our own terms, without the forces of the weather."
Meanwhile, California's biggest blaze -- 275,000-acre fire burning in the mountains northeast of San Diego -- was 65 percent contained, and firefighters said the threat had eased against Julian, an old Gold Rush town that is now a weekend getaway known for its apple orchards.
Copyright 2018 The Associated Press. All rights reserved. This material may not be published, broadcast, rewritten or redistributed. We strive to uphold our values for every story published.