A memorial to Lawrence's "Bleeding Kansas" days is getting some financial help from Congress.
Rep. Dennis Moore, D-Kan., announced Friday that the U.S. House of Representatives had voted to set aside $100,000 in the 2004 federal budget for the Hobbs Park Memorial.
"I think the people are starting to get it," said Mark Kaplan, who has led efforts to create the memorial. "One of the things we can do to protect our community is sell it as the crossroads of American history."
The small stone house known as the Murphy-Bromelsick House originally was at 909 Pa. Moved 300 feet east to Hobbs Park in 2000, it serves as a memorial to Lawrence anti-slavery activist and newspaper publisher John Speer, whose homestead was located in what is now the park at 10th and Delaware streets.
Speer's home was targeted by Confederate bandits who raided Lawrence under the direction of William Quantrill in 1863, but Speer narrowly escaped death by hiding in a cornfield.
The federal grant will pay to complete the exterior restoration of the building, re-create its surrounding grounds and install lights and plaques, which will tell about the history of the site.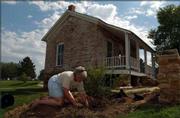 "The Hobbs Park Memorial symbolizes a chapter in American history that defines us a nation," Moore said. "It is a testament to the enduring bravery and sacrifice for freedom made by the pioneers of Kansas. Preserving this national treasure will enable us to better understand its historic significance and relevance to Kansans today."
Mayor David Dunfield, who is helping lead a committee to promote Lawrence's Civil War-era history through a federal National Heritage Area designation, on Friday praised the grant.
"Lawrence, for all its historic importance, has not had many good interpretive sites where people can actually see that history embodied," Dunfield said. "In that respect, making the Hobbs Park Memorial more accessible and increasing the interpretive work there will be helpful."
A spokesman for Moore said Senate approval of the appropriations bill could come within weeks.
Copyright 2018 The Lawrence Journal-World. All rights reserved. This material may not be published, broadcast, rewritten or redistributed. We strive to uphold our values for every story published.