Conner
Harold and Mary Conner, Lawrence, recently celebrated their 60th wedding anniversary.
Harold Conner and Mary Risker were married Oct. 6, 1943, in Lawrence. Harold is retired from Graham Truck Lines. Mary is a homemaker.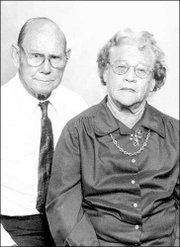 Copyright 2018 The Lawrence Journal-World. All rights reserved. This material may not be published, broadcast, rewritten or redistributed. We strive to uphold our values for every story published.